White House Chief of Staff John Kelly on Tuesday told reporters on Capitol Hill that it's very unlikely President Trump will extend the deadline for legal protection and work permits under the Deferred Action for Childhood Arrivals (DACA) program if Congress fails to reach an agreement on immigration by March 5.
"I doubt very much" Trump would extend the program, Kelly told reporters during an impromptu interview, reports The Washington Post.
Kelly explained that he was "not so sure" the president even has the "authority to extend it" because the program is not based on law.
Trump announced his decision to terminate DACA back in September, giving Congress until March 5 to come up with a permanent legal solution that would help the roughly 690,000 "Dreamers" or illegal immigrants enrolled in the program avoid deportation.
Last month, the White House issued an immigration framework that provides 1.8 million illegal immigrants who qualify for or receive benefits from DACA a path to citizenship.
Kelly called Trump's endorsement of the provision "stunning and no one expected it."
"There are 690,000 official DACA registrants and the president sent over what amounts to be two and a half times that number, to 1.8 million," he said. "The difference between [690,000] and 1.8 million were the people that some would say were too afraid to sign up, others would say were too lazy to get off their asses, but they didn't sign up."
The White House immigration proposal also requests funding to amp up border security and build Trump's U.S.-Mexico border wall.
The White House on Monday rejected a bipartisan immigration plan that would extend DACA protections but lacked funding for the wall, The Hill reports. 
Trump tweeted that any bill that does not include funding for "STRONG border security and the desperately needed WALL is a total waste of time."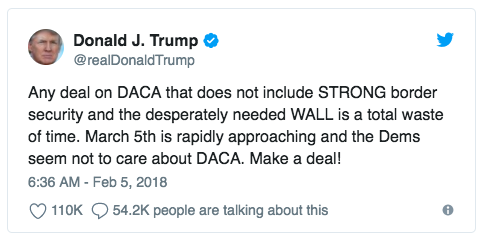 A new Rasmussen poll shows that a majority of Americans support an immigration plan that includes a path for citizenship for "Dreamers" AND Trump's border wall. 
(Cover Photo: Wikimedia Commons)
Thank you for supporting MRCTV! As a tax-deductible, charitable organization, we rely on the support of our readers to keep us running! Keep MRCTV going with your gift here!