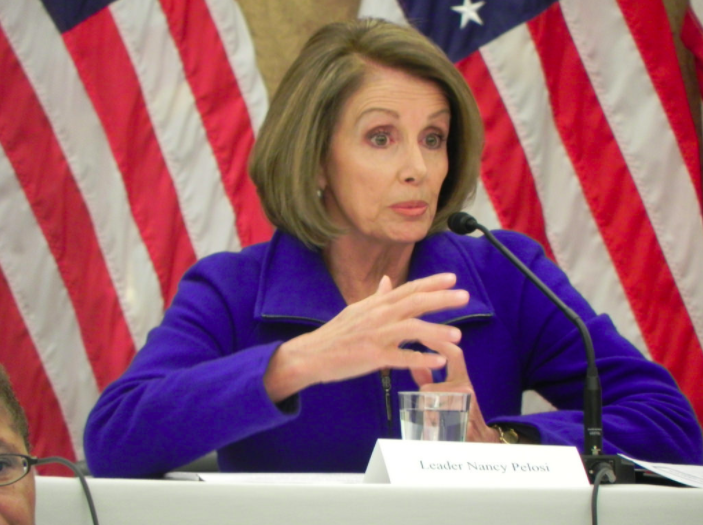 Democratic Sen. Joe Manchin (W.Va.) on Sunday slammed House Minority Leader Nancy Pelosi for calling the White House's new immigration plan a campaign for President Trump to "make America white again."
"We don't need that type of rhetoric on either side, from Nancy, [Republican House Speaker] Paul Ryan or anybody else," said Manchin in an interview with CNN's "State of the Union."
In a separate interview on NBC's "Meet the Press," Manchin called the White House's proposal "a good starting point."
"I think we can find a pathway forward; I really do," he said.
Manchin and Republican Sen. Susan Collins (ME) head a Senate bipartisan group on immigration and will be meeting to examine the White House's immigration plan Monday evening, Reuters reports.
The White House on Thursday outlined a framework that offers a path to citizenship for the 1.8 million "Dreamers" or illegal immigrants who are either enrolled in or qualify for the Deferred Action for Childhood Arrivals (DACA) program.
The proposal also calls for an end to the visa lottery program, an end to chain migration beyond spouses and minor children, and $25 billion to build a wall on the U.S.-Mexico border.
The White House framed the plan as a "dramatic concession" and "compromise," CNN reported.
Pelosi issued a statement on Friday, calling it "an act of staggering cowardice" and an "unmistakable campaign to make America white again."
She accused the Trump administration of holding Dreamers "hostage to a hateful anti-immigrant scheme," adding that the framework's suggested cuts to legal immigration programs "are both part of the same cruel agenda."  
Senate Minority Leader Chuck Schumer (D-N.Y.) on Friday similarly criticized President Trump for using Dreamers as "a tool to tear apart our legal immigration system."
After the government shutdown last week, Democratic leaders were criticized for using Dreamers as a bargaining chip in spending bill negotiations.
Lawmakers face a Feb. 8 deadline to pass yet another spending bill and finally reach an agreement on immigration.  
Trump is expected to discuss his immigration plan during his first State of the Union address on Tuesday.
Thank you for supporting MRCTV! As a tax-deductible, charitable organization, we rely on the support of our readers to keep us running! Keep MRCTV going with your gift here!