After Kanye West met with President Trump in the Oval Office on Thursday, he faced a firestorm of criticism from liberals and fellow celebrities.
During the meeting, West went on a tirade, praising Trump and sharing with the media that he looks up to the president.
He said that his "Make America Great Again" cap made him "feel like Superman" and that many of his friends tried to get him not to wear the hat.
West also said, "Trump is on his hero's journey right now ... He might not have thought he'd have a crazy mother-f----- like Kanye West run up and support, but best believe — we are going to make America great."
After his meeting, the backlash was harsh. 
Comedian Chelsea Handler tweeted, "Kanye West says he thinks of Trump as a father. Guess who doesn't think of Kanye as a son."

Wow. How is that funny?
"Brooklyn Nine-Nine" star Chelsea Peretti called the meeting "hell on earth."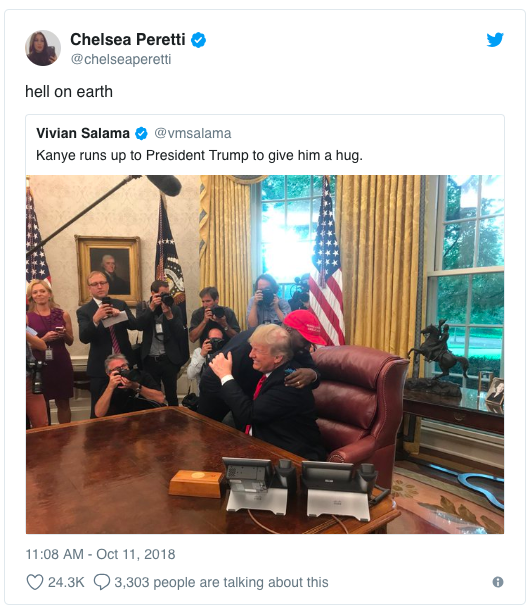 MSNBC's Chris Hayes tweeted that, "shamelessless is a superpower and Ye has even great reserves of it than Trump."

Fellow rapper T.I. wrote in a post on Instagram that, "At one time it was a pleasure to work alongside you... now, I'm ashamed to have ever been associated with you."
Late-night show host Conan O'Brien tweeted this mocking West: 

"The Kimmel Show" host Jimmy Kimmel Thursday night implied that both West and Trump are mentally ill:  
"Not only was this a crazy conversation for this White House, this was the kind of conversation that would typically held between people wearing hospital bracelets," he said.
CNN's Don Lemon hit a new low after using West's mental health and his late mother to disparage him, as MRCTV reported.
Lemon went so far as to say that his mother "is rolling over in her grave" in embarrassment.
CNN has also called West a "token negro" who "can't read," reported MRCTV.
Comedian Dave Chappelle chose a different approach. He made it clear that he doesn't agree with West so far as his political views go, but he did so without mocking or denigrating the rapper-clothing designer.
"I'm not mad at Kanye," said Chappelle. "That's my brother — I love him, I support him. But, you know, I don't have to agree with everything that he says. I just trust him as a person of intent."
Another person who came to his defense was rapper Azealia Banks. She said in a series of posts on her Instagram story Friday that she was "proud of Kanye for at least taking a first tstep in opening the dialogue."
"Literally no other black celebrity has gone to the White House with a level head to try and represent for us," said Banks.
She's made it apparent that she isn't a fan of Trump, but she praised West "for doing what everyone else is afraid to do."
"It's very likely that Donald Trump will be re-elected for a second term," said Banks. "Rather than stand on the sidelines and shout and scream at him, chastise him and seek to blame him for the entirety of American history someone needs to have the courage to at least try and make something happen."
People can actually agree to disagree without attacking each other. Go figure.