Maybe politicizing sensitive topics is the new norm in the society we currently live in. It's typically never the completely right thing to do, but it doesn't change the facts.
On Wednesday, the White House tweeted out a video titled, "permanently separated," released in the wake of the murder of 20-year-old Iowa woman Mollie Tibbetts, allegedly by a suspect who's supposedly an illegal alien.
The video features comments from family members of people who were killed by people in the U.S. illegally.
Take a look:
For 34 days, investigators searched for 20-year-old Mollie Tibbetts. Yesterday, an illegal alien, now charged with first-degree murder, led police to the cornfield where her body was found.

The Tibbetts family has been permanently separated. They are not alone. pic.twitter.com/BBskwHEJoU

— The White House (@WhiteHouse) August 22, 2018
The video has been retweeted over 10,000 times, as of this writing.
Those on the Left didn't appreciate the video at all: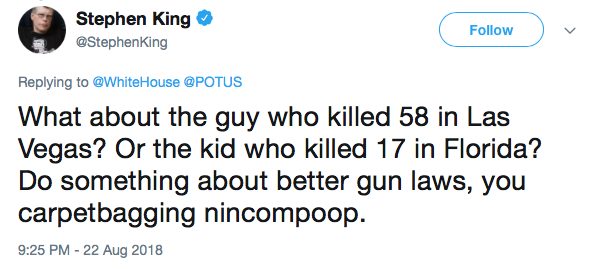 For author Stephen King, gun control is more important than enforcing laws already on the books that possibly could've prevented Tibbetts' murder.
As for the latter two tweets, they call out racism while being racist themselves. Nobody's talking about race besides the Left. People are more concerned with those that broke the law by illegally entering the U.S. Not sure if that will ever sink in for the far-Left.