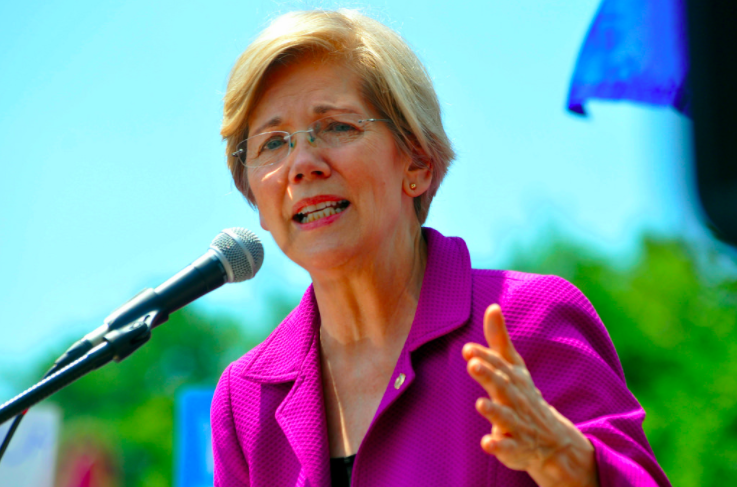 Image via Flickr - Edward Kimmel
Sen. Elizabeth Warren (D-Mass.) is using President Trump's "Pocahontas" jab to rally her supporters for donations.
Trump at an event honoring Native American "code talkers" who served in World War II referenced Warren by the nickname he's used for her before, though not directly by name.
"[W]e have a representative in Congress who they say was here a long time ago. They call her 'Pocahontas,'" he said.
Warren in an email obtained by The Hill called the nickname a "racial slur" and vowed to continue fighting Trump's agenda.
"You might have heard that Donald Trump likes to call me 'Pocohontas.' He does it on Twitter, at rallies, and even in official White House meetings," reads the email.
"Let's show Donald Trump that we're sick of his racist slurs by getting to work to fight his agenda. Donald Trump can keep attacking my family — but I am going to keep fighting for yours," the message goes on.
After Trump's "Pocahontas" remark, the media went into a frenzy, accusing the President of racism all the while failing to explain the reason behind the offensive nickname.  
White House press secretary Sarah Huckabee Sanders defended Trump on Monday, saying, "I think what most people find offensive is Senator Warren lying about her heritage to advance her career."
Warren in her college paperwork and during a Senate race in 2012 claimed to be of Cherokee heritage, but when asked to prove her claim, she has dodged the subject.
"She simply chalked it up to family lore that has been passed down but which she couldn't prove with actual documentation," Fox News reports. "The liberal Washington Post even gave up on trying to prove Warren's heritage, telling 'readers to look into it on their own and decide whether Trump's attacks over Warren's background have merit.'"
"Warren claims that she never furthered her career by using her heritage as an advantage, but many critics disagree with the potential 2020 Democratic presidential candidate," Fox News writes. "She has offered ridiculous excuses such as listing herself as a Native American in order to get 'invited to a luncheon' and because her grandfather had high cheek bones."
Thank you for supporting MRTV! As a tax-deductible, charitable organization, we rely on the support of our readers to keep us running! Keep MRCTV going with your gift here!