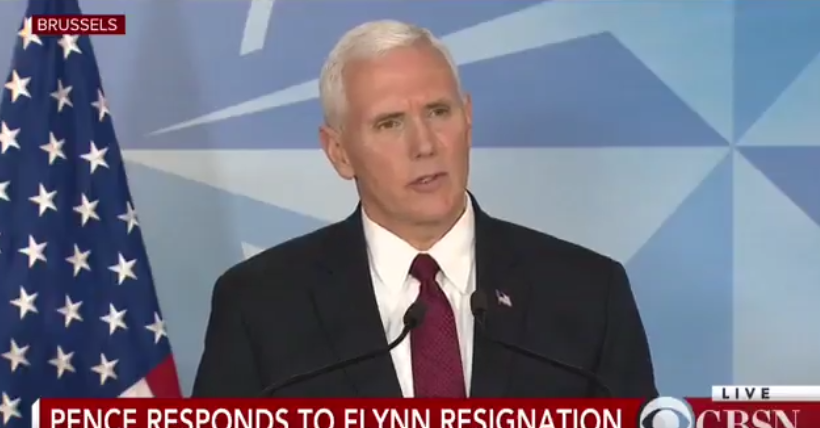 (Image via Screenshot)
Vice President Mike Pence in a news conference on Monday responded to news of Gen. Michael Flynn's resignation as President Donald Trump's national security adviser.
Pence said he was "disappointed" that the retired general had misled him about a conversation he had with the Russian ambassador to the U.S.
"I was disappointed to learn that the facts that had been conveyed to me by General Flynn were inaccurate," Pence said at presser in Brussels with the NATO secretary general.
"But we honor General Flynn's long service to the United States of America," he went on, "and I fully support the president's decision to ask for his resignation."
The Vice President praised Trump's decision to ask for Flynn's resignation.
"It was the proper decision," said Pence. "It was handled properly and in a timely way. And I have great confidence in the national security team in this administration going forward."
Flynn resigned last week after reports that he had discussed U.S. sanctions against Russia with the Russian ambassador to the U.S. and gave a misleading representation of the conversation to members of the Trump administration, including Vice President Pence.
President Trump addressed Flynn's resignation last week with a much different tone, defending him as a "wonderful man" who was treated "very, very unfairly" by the "fake media."
He argued that the real story is how classified information is being leaked by government officials.
The White House press secretary in a news briefing last Tuesday did concede that the "level of trust" between the President and Gen. Flynn "had eroded to the point where [Trump] felt he had to make a change."
Thank you for supporting MRCTV! As a tax-deductible, charitable organization, we rely on the support of our readers to keep us running! Keep MRCTV going with your gift here!