In case you missed it — and odds are you most likely did — Tuesday's episode of ABC's "The View" gave us possibly the most insanely idiotic segment in the history of the show — as they attacked Vice President Mike Pence's faith.
After host Joy Behar bashed Vice President Mike Pence's faith, she then strangely wondered aloud how much better Pence would be as president rather than President Trump.
Without further ado, here's the segment:
I know, right?! What is the matter with these people? At the very least I'll give Sherri Sheppard a little credit for somewhat defending Pence's faith. Behar on the other hand, is an utterly unredeemable person.
"It's one thing to talk to Jesus," Behar said. "It's another thing when Jesus talks to you. That's called mental illness, if I'm not correct, hearing voices."
I'm not one to push religion on anyone, but for Behar to equate someone's dedication to their faith with mental illness is blasphemous. Behar's more than entitled to her opinion — but when you openly mock people's faith — that's when freedom of speech meets freedom of consequence.
Behar posed, "My question is, can he talk to Mary Magdalene when his wife isn't in the room?"
Sorry - not sorry - what an ignorant wench. Behar was pretty much the only one in the room who laughed at that dig directed towards the vice president. Even "The View" audience knew that Behar had crossed a line.
Of course, Behar wasn't done word vomiting. Not only did she continue to attempt to seem like someone who has some sort of comedic background by continuing her assault on Pence's faith, but then she completely contradicted herself by saying that she would prefer Pence as president over Trump.
Here's Behar's "well-informed" opinion on why Pence would be better as president than Trump:
I don't think anyone could be worse than Trump. I don't. I think that Mike Pence — say what you will about Mike Pence and his religiosity and everything else — I don't think that he's mentally ill, even though he says he is hearing voices. I don't think he's that crazy. He has no charisma whatsoever. I don't think he would get reelected. I don't think he would want to destroy the environment. I don't think he would make it his life's purpose to go against everything Obama did. I don't think he would antagonize Kim Jong-un. That's why I think he would be better, because Trump is the worst we've ever had.
President of the Media Research Center Brent Bozell believes that "The View" completely "crossed a serious line" with this segment, he took particular exception to the "mental illness" comment. Bozell took to Twitter to voice his displeasure.
Here are the tweets: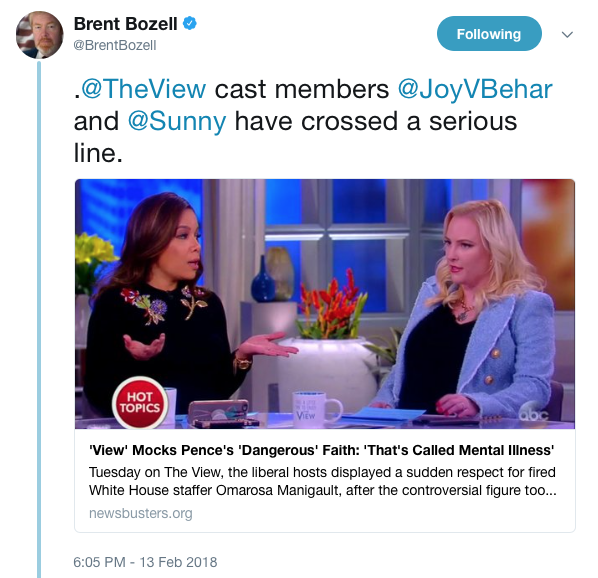 Bozell is absolutely correct in his assessment that people don't need to like Pence's politics — or Trump's for that matter — but to disparage someone's faith because you're nothing more than an ignorant fool is adolescent at best.
I would call this nine-minute discussion stupid, but that would be offensive — and for once, justifiably so — to actual stupid people. Watching this segment made my brain hurt because of how completely ridiculous the members of the show sounded. 
Keep it up, Joy! You just prove your critics right about you on a daily basis.
MRCTV is a division of the Media Research Center
H/T: NewsBusters