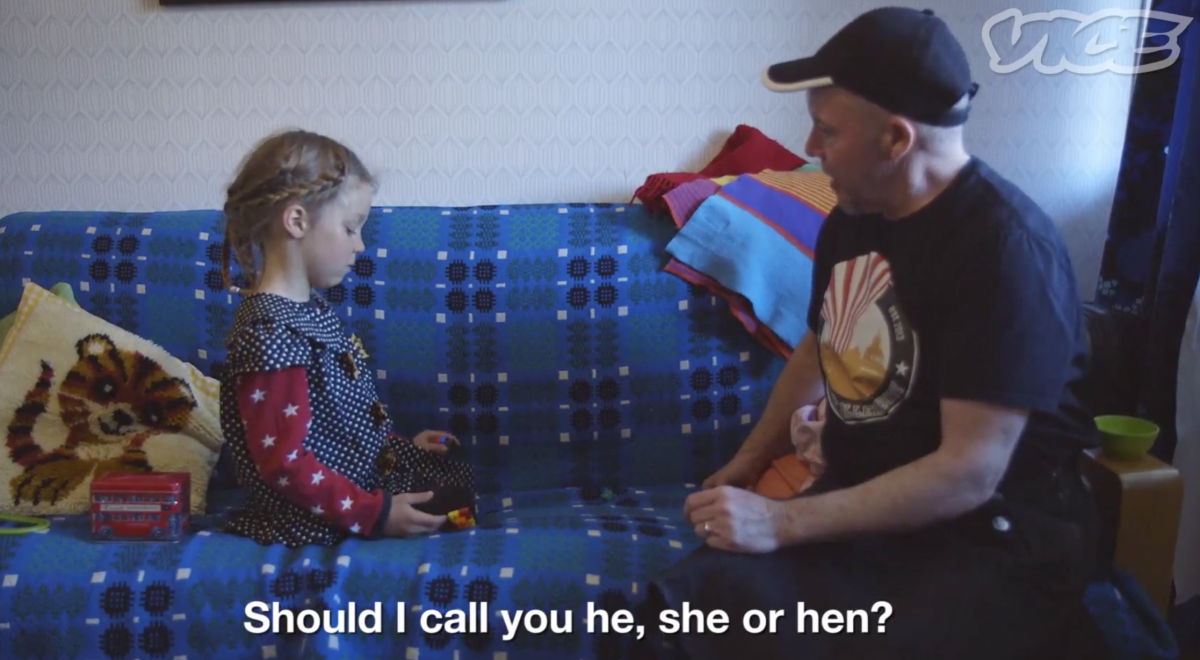 Vice is promoting a Swedish family that is raising their children "without gender" as a way to make "social progress."
In their promoted post pinned to their Facebook page, Vice advertises its "Raised Without Gender" documentary. In the film, journalist Amelia Abraham documents her journey to Sweden, which Vice describes as "arguably the world's most forward-thinking country when it comes to questioning gender" to learn about one family that is raising their children as gender non-conforming.
The nearly 30-minute documentary shows how "mapa," Del LaGrace Volcano, an "intersex" person, is raising a family with a partner who gave birth to the children. The children include five-year-old Mika and nearly three-year-old Nico, who were born boys, but are being raised without defined genders.
In the preview, a child, Core, who was born male but has long hair, is asked, "Do children ask you if you're a boy or a girl?"
The child responds, "I'm a girl."
He is then asked, "You think that you are, but do kids and friends ask you?"
"But today I am a boy," the child adds. "After I've been a boy, I will be a girl again. When I'm a girl, I'm a little girlie."
The father affirms the child's belief about his or her own gender by saying, "Okay."
Mika remarks that he has been repeatedly asked if he is a girl or a boy.
"I answered that I was neither, then I said that I was both," Mika responds.
The grandmother of the main children in the documentary, Margareta, says Mika likes the color pink and wearing dresses, but prefers playing with cars to dolls, which appears to mean the child is actually a boy.
However, the grandmother is concerned their "mapa" may actually be forcing the gender-neutral parenting upon the children.
The grandmother asks, "Does he like to wear dresses? Or does Del like that he wears dresses? Del has always said, 'Look, I have bought a nice dress for you, won't you want to try it on?"
The documentary shows Del offering their children an option of two dresses to wear before asking Mika, "Today, should I call you he, she, or hen?" Hen is a widely-adopted gender-neutral pronoun in Sweden that's been added to the official dictionary.
Mika responds, whispering, "Do you always have to say that?" Del responds, "That's not something I always have to say, but it would be good to know today for the film." Mika is confined to using just his name, "Mika."
After that confrontation, Abraham asserts that Mika appears to be non-binary for not wanting to discuss gender on a daily basis.
While visiting the Swedish schools, Abraham is informed that in Sweden, it is illegal to use gender stereotypes. The school refers to children as "friends" and "people" instead of "boys and girls" and uses children's books that depict superheroes in dresses, as "soft" feminine characters, and in lesbian relationships.
Psychiatrist David Eberhard, described as a critic with gloomy music playing in the background, is asked why he opposes the Swedish government's rule against gender norms.
He responds, "I think it's damaging because it tells us that behaviors that are typical for boys, typical for girls, is problematic. It's a brainwashing strategy that you are eradicating sex differences, which I do oppose. The major problem in Sweden, I do say, is that our boys fail in school, not our girls. Boys are committing suicide, not the girls. So the problem today in Sweden is with the boys. If you have this law that you should treat boys like hens, it implies that you should not behave the boy you were born to be."
"It should not be the government to tell our kids how they should react. It should be up to them," he states. "And I would like our kids to be kids."
Abraham asserts that is the same goal as the gender-neutral kindergarten she visited. She later claims the gender-neutral schooling will have a "positive effect" on the children."
Asked again during the documentary whether to go by hen or not, Mika gets upset and leaves.
Del says, "I think you heard that Mike will say 'hen' because I say 'hen.' Mika does, and probably will, model themselves more on me. I try not to put my obsessions onto Mika, but I do believe that Mika has the ability to choose you know if Mika decides to be a dude, then great. That's fine. I will love Mika no less."
However, later asked, about whether Del is forcing their own views of gender on the children, Del admits the gender-neutral child-rearing tactic is a way to counteract the childrens' privilege.
Abraham asks, "But a lot of people would say you're deliberately bringing up your child to not fit in with the norm and that could be dangerous to them. What would you say to that?"
"I would say you're absolutely right," Del responds. "People raise their children to be just like them, so we're doing nothing different. We're absolutely ordinary in that way. Let me just say: they're both assigned male at birth, they're both white, they're both able-bodied, they're intelligent, they've got a full knapsack of privileges. So if they have to deal with a little bit of discomfort because they have a 'mapa,' or because their gender expression doesn't match with what other people think it should be… Gender confusion is a small price to pay for social progress."
At the end of the documentary, Abraham agrees that raising kids non-binary is a form of progress.
Watch the full documentary here:
Thank you for supporting MRCTV! As a tax-deductible, charitable organization, we rely on the support of our readers to keep us running! Keep MRCTV going with your gift here!