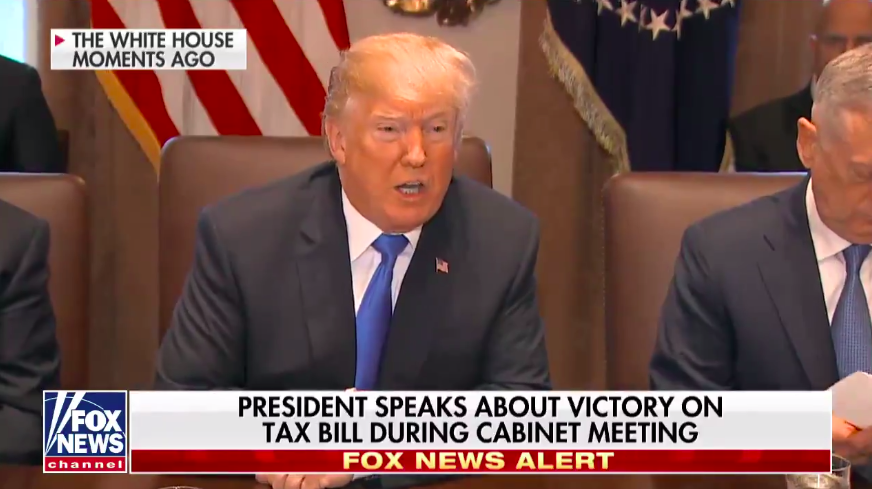 Image via Screenshot
President Trump during a cabinet meeting at the White House on Wednesday slammed Democrats for opposing the GOP tax reform bill, which has officially passed in the House and Senate.
"Unfortunately, the Democrats don't like to see tax cutting. They like to see tax increases. And they like to complain," he said.
Democrats such as House Minority Leader Nancy Pelosi (D-Calif.) and Senate Minority Leader Chuck Schumer (D-) have called the measure a "scam" and a "disgrace," claiming that the tax overhaul will only benefit the wealthy and will hurt the middle class.
Schumer tweeted shortly after the final House vote Wednesday afternoon that it is "clear as day" that "Republicans stand with the wealthiest few – not with the middle class."
The bill passed 224-201 in the House and 51-48 in the Senate with no Democrats supporting it.
The Trump administration claims the bill will benefit average Americans on every income level.
"The final bill – a combination of previously passed House and Senate legislation – would slash the corporate tax rate from 35 percent to 21 percent. It would double the standard deduction used by about two-thirds of U.S. households, to $24,000 for married couples. And the $1,000-per-child tax credit would double to $2,000, with up to $1,400 available in IRS refunds for families who owe little or no taxes," Fox News reports.
Democrats slam the bill because the corporate tax cut would be permanent while the tax cuts for individuals would expire in 2026.
"The bill would bring average initial tax cuts for Americans across all income lines, but by 2027, it would boost average levies for everyone earning up to $75,000, which includes most taxpayers, Congress' nonpartisan tax analysts estimated Monday," according to Fox News.
Still, Republicans say Americans need only look at their paystubs in February and see change for the better. 
Republicans are on their way to the White House to celebrate.
Thank you for supporting MRTV! As a tax-deductible, charitable organization, we rely on the support of our readers to keep us running! Keep MRCTV going with your gift here!