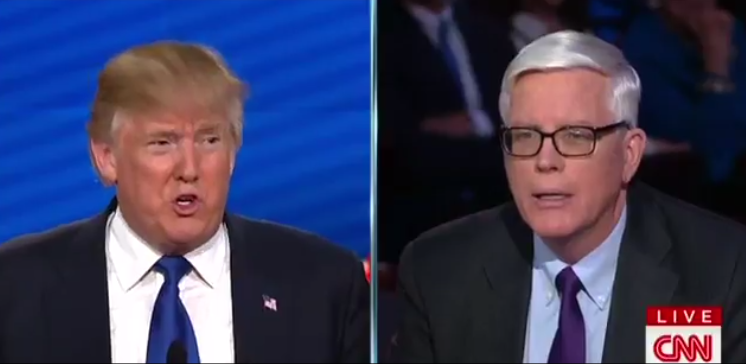 (Image via Screenshot)
During CNN's Republican presidential debate Thursday night, Donald Trump insulted moderator and conservative radio talk show host Hugh Hewitt after he asked whether Trump intends to release his tax returns as promised. 
"A year ago, you told me on my radio show – the audio and the transcript are out, they're on YouTube – that you would release your tax returns. Are you going back on your commitment?" Hewitt asked.
"First of all, very few people listen to your radio show. That's the good news," Trump fired. "Let me tell you this – which happens to be true. Check out the ratings."
The GOP presidential frontrunner went on to say that he will "absolutely" release his tax returns, but can't right now because he's being audited.
"You don't learn anything from a tax return," said Trump. "I will say this: Mitt Romney looked like a fool when he delayed and delayed and delayed and Harry Reid baited him and Mitt Romney didn't file until a month and a half before the election and it cost him the big league."
"As far as my return, I want to file it except for many years, I've been audited every year. Twelve years or something like that. Every year they audit me, audit me, audit me. I have friends that are very wealthy people [who never get audited]," he said.
"I will absolutely give my return but I'm being audited now for two or three [years] now so I can't," said Trump.
Check out a clip from his remarks below.