President Donald Trump took to Twitter over the weekend complaining that Gen. Michael Flynn's "life is destroyed" while Hillary Clinton benefitted from a "rigged system" when it came to her email investigation.
On Saturday Trump tweeted: "So General Flynn lies to the FBI and his life is destroyed, while Crooked Hillary Clinton, on that now famous FBI holiday "interrogation" with no swearing in and no recording, lies many times...and nothing happens to her? Rigged system, or just a double standard?"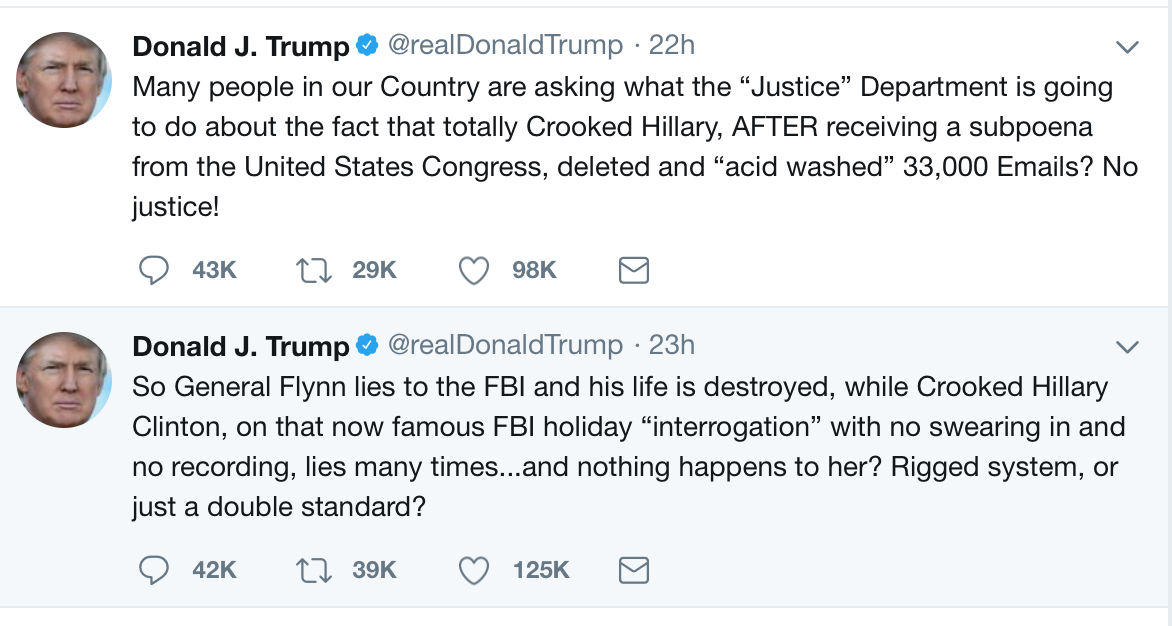 Later he tweeted: "Many people in our Country are asking what the "Justice" Department is going to do about the fact that totally Crooked Hillary, AFTER receiving a subpoena from the United States Congress, deleted and "acid washed" 33,000 Emails? No justice!"
Then on Sunday Trump took to Twitter again following news reports an FBI agent who worked on the agency's Hillary Clinton email investigation expressed opposition to Trump in electronic messages.
"Report: 'ANTI-TRUMP FBI AGENT LED CLINTON EMAIL PROBE' Now it all starts to make sense!"

Fox News reports, the office of Special Counsel Robert Mueller confirmed with Fox News that agent Peter Strzok had been removed from Mueller's investigation into Russia collusion after the Justice Department's inspector general started examining Strzok's electronic messages, which reportedly included ones that were anti-Trump and pro-Hillary Clinton.
Last year, Strzok worked on the FBI investigation into whether Clinton mishandled classified information by the use of private email servers while serving as Secretary of State.