It's weird how other people, with different beliefs, get banned from social media platforms because people who have no idea what those people actually believe get offended at the mere mention of their name. On the flip side of that, we have far-left "journalists" espousing their own tinfoil hat conspiracy theories and they get to keep their checkmark because said theories support the far-left agenda. I'm not saying either should be removed from social media, as long as they're not threatening anyone or calling for violence, but the hypocrisy is pretty astounding.
MSNBC's Chris Hayes took to Twitter on Friday to give his "theory" as to why the economy is performing well during President Donald Trump's tenure in the White House, while it was less than stellar during former president Barack Obama's eight years in the Oval Office.
While most of what Hayes tweeted didn't make a whole bunch of sense to — well, pretty much anyone who read it — the "All In with Chris Hayes" host seemingly intimated that the reason the economy suffered under Obama was because companies intentionally performed poorer just so Democrats couldn't tout a strong economy.
How is that not a conspiracy theory?
See for yourself (Note: There were more tweets in Hayes' thread, but I won't subject you to all of it):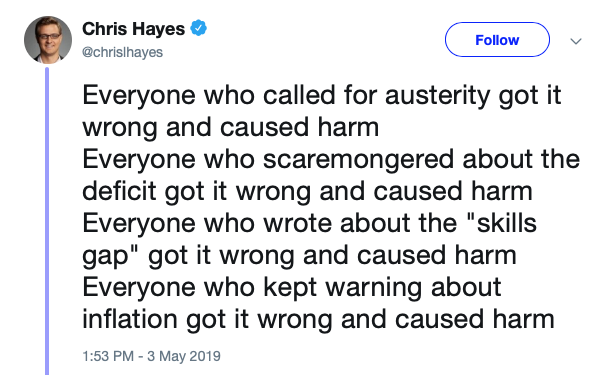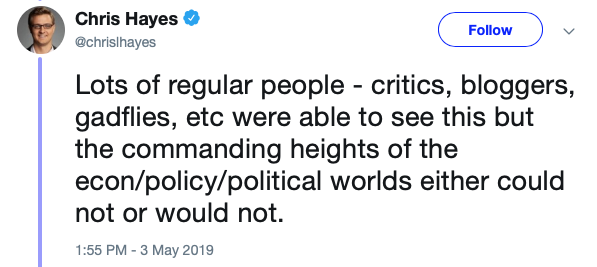 Here's Hayes' "theoretical" tweet:
The "Twitterverse" wasn't really that upset with Hayes. But, the overwhelming majority of respondents did call him out for his non-sensical rant:




And we're only in May!
H/T: Twitchy