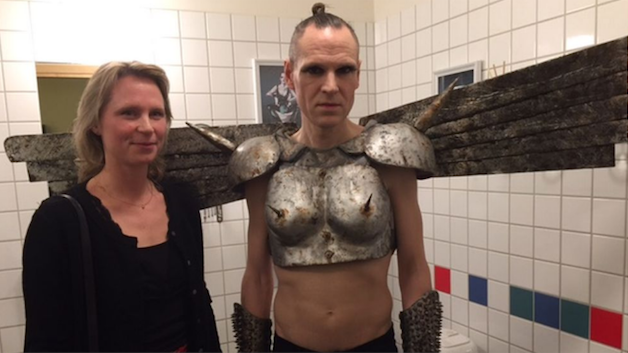 A Swedish university has unveiled its first gender-neutral "hen" bathroom, complete with nail polish, lipstick, razors, and sanitary napkins.
Sweden's national public broadcaster, Sveriges Television AB, reports* Uppsala University opened its gender-neutral "hen-toilet" in the Ångström Laboratory.
Assistant professor Annika Skoglund, who came up with the idea of the bathroom, said she was inspired by her previous workplace.
In order to make "everyone, regardless of gender" feel welcome, the bathroom includes "sanitary towels, razors, deodorant, nail polish and toothbrushes, as well as a full-length mirror."
The point of the bathroom is to apparently make people—particularly university staff—feel comfortable if they want to "play" with their gender identity.
The money to fund the bathroom comes from the taxpayers of Sweden.
 "When I received a sum of money for gender support from the university, I chose to spend some of it on this," Skoglund said.
"I could use the money to invest in my own career development, but now it is used instead to improve the general well-being and work environment for me and my colleagues."
She said most people's opinions of the hen-toilet are "very positive." However, she says, "there are some who think I should have done something better with the money."
Skoglund said the hen-toilet has "both encouraged a general discussion of the work and a discussion of the concept of 'hen,'" which became an accepted gender-neutral pronoun in Sweden when it was adopted into the Swedish Academy's SOAL Dictionary in 2015. 
Approximately 100 students reportedly attended the hen-toilet's inauguration. It included a red tape cut and a performance by musical artist Tobias Bernstrup.
Uppsala University is the oldest university in Sweden. It is ranked as one of the best universities in the world. 
*The quotes in this piece have been translated into English from the original Swedish.