Both traditional and social media lit up after actor Robert Di Niro used a profanity to insult President Trump at the June 10 Tony Awards.
While introducing Bruce Springsten, De Niro announced, "F*ck Trump!" The audience gave the aging actor a standing ovation.
There was some resistance to the #Resistance. Superman Dean Cain simply tweeted, "Stay Classy #Resistance" with a clip of "Harry Potter and the Cursed Child" director John Tiffany expressing surpise at De Niro's remarks, asking the reporters gathered what they thought of De Niro. The reporters cheered.

Actress Noma Dumezweni, who plays Hermione in the "Harry Potter" stage play, told a Variety reporter that President Trump is not welcome at the show. Conservative actor James Woods had a sarcastic reply on Twitter: "Dear Mr. President, I know you're busy trying to dismantle nuclear weapons on the Korean Peninsula and thus further world peace, but I'm afraid I have some heartbreaking news for you..."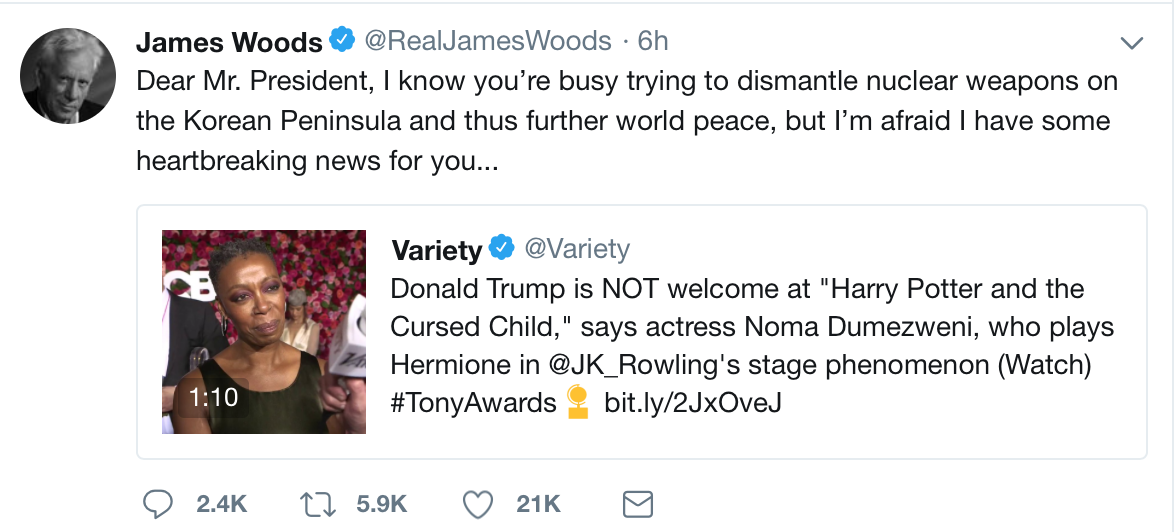 MRCTV Reader,
The liberal media are terrified of the truth, especially when it leads to uncomfortable questions about their own leftist worldview.
MRCTV is the multimedia division of MRC featuring original content and aggregated videos of the news, people, and events conservatives care about.
MRCTV relies on the support of our loyal readers (and video viewers) to keep providing the news and commentary that matter to the American people, not just stories that prop up the liberal agenda.
Make a donation today. Just $15 a month would make a tremendous impact and enable us to keeping shining the light where the liberal media are afraid to tread.
— The MRCTV Team
DONATE
Connect
Sign up for our MRCTV newsletter to receive the latest news.
Sponsored Links