A prank that was meant as a joke — even if that joke is in poor taste — shouldn't be judged by government. But, this is what happens when your country abhors free speech.
YouTube personality Count Dankula, also known by his real name Mark Meechan, has been found guilty of being "grossly offensive" by the Glasgow Sheriff Court on Tuesday.
According to the Daily Mail:
Meechan was arrested by police for allegedly committing a hate crime by sharing the footage in April 2016.

Meechan, who said he has lost eight jobs since posting the video, claimed he only intended it to be seen by seven of his friends, who follow his YouTube channel, Count Dankula.

But he says the video was shared, by someone, on the social media platform, Reddit, which led to the surge in its popularity[…]

But Sheriff O'Carroll said the video, in which the phrase 'gas the Jews' is repeated 23 times, was 'threatening and grossly offensive.'

He found Meechan guilty of sending by 'means of a public electronic communications network a message or other matter that is grossly offensive or of an indecent, obscene or menacing character'.
While Meechan's prank video can obviously be construed as being done in poor taste, what is truly offensive is that governments around the world are jailing people for jokes.
Meechan tweeted Tuesday morning that the sentencing portion of the trial has been "deferred" to April 23.
Here's Meechan's tweet:

Meechan posted an update on the proceedings, which entail him being put through a process that would make him a prisoner in his own home.
Here's the update: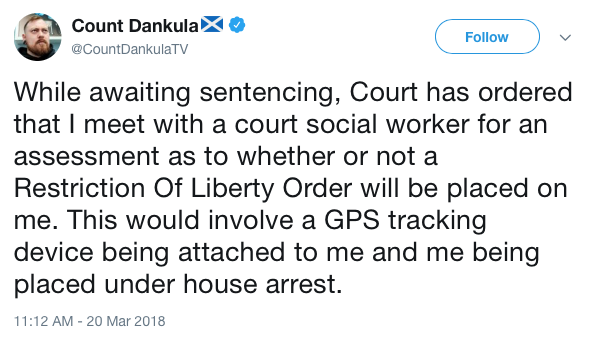 That's simply ridiculous. Someone should investigate Scottish court system for "dumbassery."
In January of this year Meechan uploaded an update video of how the trial was going.
"The prosecutor also said that the public and individuals do not get to decide what context or intent is or when and where context or intent should be taken into consideration," Meechan said. "The court decides that."
This is government implementation of Socialism at its finest. Essentially, the prosecutor was saying that people are too stupid to understand the difference between a joke and hate, so the government will tell you is a joke or offensive.
Meechan posted a now-unsharable video to YouTube nearly two years ago that was meant as a prank (you can view the video by clicking here, WARNING: content may apparently be offensive). The Scottish government didn't see it as very funny.
The video was meant as a joke on Meechan's girlfriend, who had been constantly saying how cute her pug was. Meechan decided that it would be funny to show his girlfriend how un-cute her dog could be.
"My girlfriend is always ranting and raving about how cute and adorable her wee dog is," Meechan said in the video, "so I thought I would turn him into the least cute thing I could think of, which is a Nazi."
Meechan taught the dog to respond to the term "gas the Jews" and also respond to "sieg heil" with a Nazi salute, effectively teaching the dog to raise its right paw every time it heard the phrase.
Meechan describes himself as the following, according to his Twitter profile:
Professional Shitposter. Going to jail for a joke. Anti-PC. Anti-SNP [Scottish National Party]. Pro Free Speech. Edgi Boy. Scottish Nationalist. I'm not a Nazi, but my dog is.
While I understand the sensitivity of people - justifiably so - when it comes to bringing up the Third Reich, some jokes are so over-the-top that they can only be viewed as attempted comedy — unless you have no sense of humor to begin with.
Free speech is all but dead in certain European countries. Looks like the U.K. have descended a long way from the days of Monty Python.