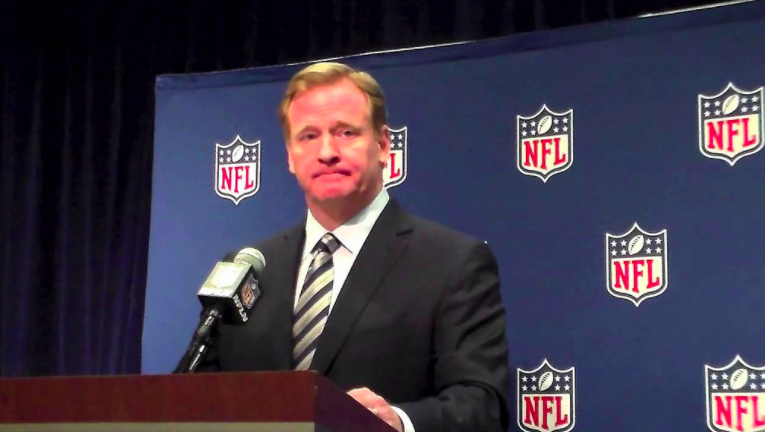 According to a Sunday report by ESPN, NFL Commissioner Roger Goodell is seeking "about $49.5 million per year, as well as the lifetime use of a private jet and lifetime health insurance for his family" as part of his proposal for a contract extension.
Goodell, who has been commissioner since 2006, reportedly submitted his most recent proposal in August.
All 32 NFL owners voted in May to extend Goodell's contract but left the details of said contract to be negotiated by the NFL's Compensation Committee, reports Fox News. 
NFL team owners and executives reportedly view Goodell's proposal as outrageous.
An anonymous NFL owner told ESPN that there are "several owners in this league who don't make $40 million a year." He added: "That number for Roger just seems too much. It's offensive. It's unseemly."
One NFL executive reportedly told ESPN that the NFL's Compensation Committee should pass a rule that prohibits Goodell from making more than the league's highest-paid player.
Detroit Lions quarterback Matthew Stafford is currently the NFL's highest-paid player with a $1 million base salary and $50 million signing bonus. That does not include lifetime use of a private jet plane or lifetime health insurance for his family. 
Goodell currently makes about $30 million a year and his contract runs through 2019.
Dallas Cowboys owner Jerry Jones has threatened to sue if Goodell's extension is completed without final review or approval from all 32 team owners. 
The NFL's Compensation Committee will hold a conference call Monday to discuss the terms of Goodell's proposal. 
The contract negotiations come amid the ongoing controversy over NFL players kneeling during the National Anthem.
While he believes players should stand for the anthem, Goodell has refused to change the league's policy to force them to do so. 
The protests continued through Veterans' Day Weekend.
Thank you for supporting MRCTV! As a tax-deductible, charitable organization, we rely on the support of our readers to keep us running! Keep MRCTV going with your gift here!