Many NFL players skipped kneeling for the Veterans Day weekend games, but not all.
Some of the San Francisco 49ers continued to protest, with safety Eric Reid and receiver Marquise Goodwin taking a knee during the national anthem.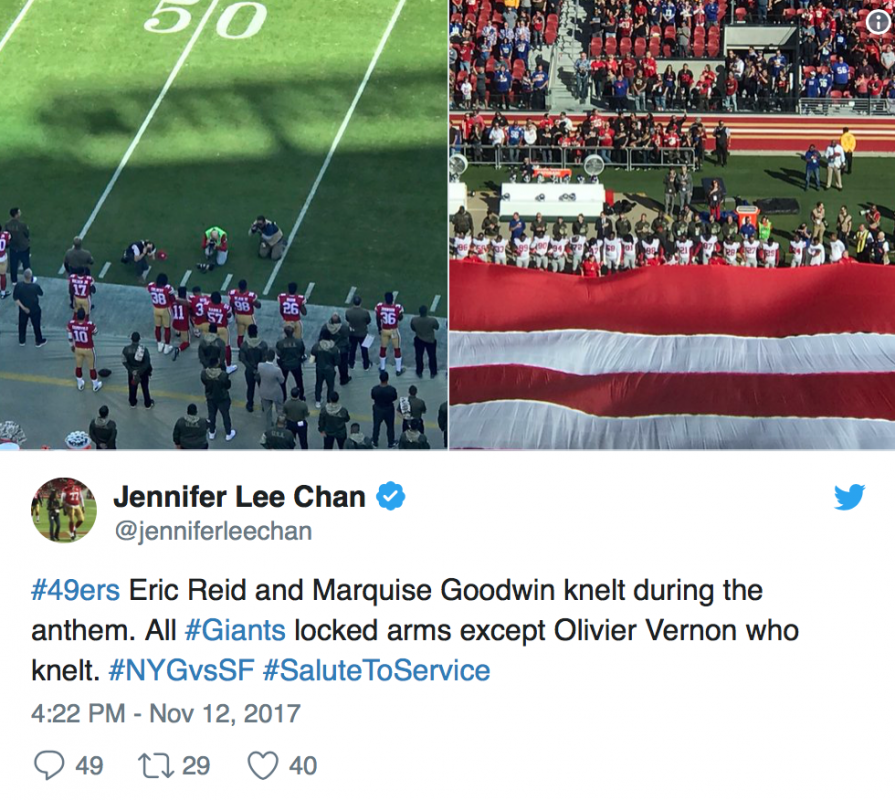 The 49ers would go on to defeat the New York Giants. The Giants' Olivier Vernon was the only player on the team to take a knee during the national anthem.
Linebacker Robert Quinn of the LA Rams reportedly put his right fist in the air during the national anthem.
Early ratings show that "Sunday Night Football" on NBC featuring the New England Patriots vs. The Denver Broncos was a ratings winner overnight, but not every one is optimistic.
NBC's Mike Florio of Pro Football Talk claims that overall ratings are down nearly 6 percent for the NFL when compared to last year. While he doesn't mention the anthem-kneeling controversy by name, he does mention the "crises" of the league taking precedence.
From Pro Football Talk:
Creativity will be needed to fix this one, and it needs to be applied not after the season ends but in real time. For a league that has grown accustomed to smooth sailing and ever-rising numbers, there may be no mechanism in place for dealing with this kind of crisis. There should be; otherwise, the other kinds of crises the league is confronting will continue to take precedence.
Thank you for supporting MRCTV! As a tax-deductible, charitable organization, we rely on the support of our readers to keep us running! Keep MRCTV going with your gift here!