Judge Amy Coney Barrett, who is Catholic and a potential nominee by President Trump for the Supreme Court, has come under attack from the secular liberal media.
Actress Patricia Heaton, also a Catholic, is not having it.
The controversy - or at least what the left considers a controversy - comes from Coney being a member of the People of Praise, a Christian group that describes itself this way: "We are an ecumenical, charismatic, covenant community. Our model and inspiration is the first Christian community, a small band of disciples who 'were of one heart and soul' and 'held all things in common.' (Acts 4:33, 2:44). We can be difficult for the public and the press to understand. In truth, we are a community that defies categories."
There's more: 
A majority of People of Praise members are Catholic, and yet the People of Praise is not a Catholic group. We aim to be a witness to the unity Jesus desires for all his followers. Our membership includes not only Catholics but Lutherans, Anglicans, Methodists, Pentecostals and nondenominational Christians. What we share is a common baptism, a commitment to love one another and our teachings, which we hold in common.
To anyone who's not a prisoner of the coasts or an ivy league elitist, this sounds like your typical Christian community and fellowship.
Of course, to people on the left such devotion is appalling. Liberal scold and MSNBC regular Richard Painter tweeted about Coney POP: "A religious group in which members take an oath of loyalty to each other and are supervised by a male 'head' or female 'handmaiden.' That looks like a cult. Now she wants a seat on SCOTUS for the sole purpose of overturning Roe v. Wade. The answer is NO." Painter then linked to a New York Times article about Barrett and the People of Praise.
Heaton, who is pro-life and active in her faith, wasn't having it. She tweeted: "Hello Mr. Painter. Before you and @nytimes slander faithful Christians who have committed their lives to loving the poor as Jesus commanded of his followers, you might want to actually learn about them: https://peopleofpraise.org/news/?p=6160  Thank you."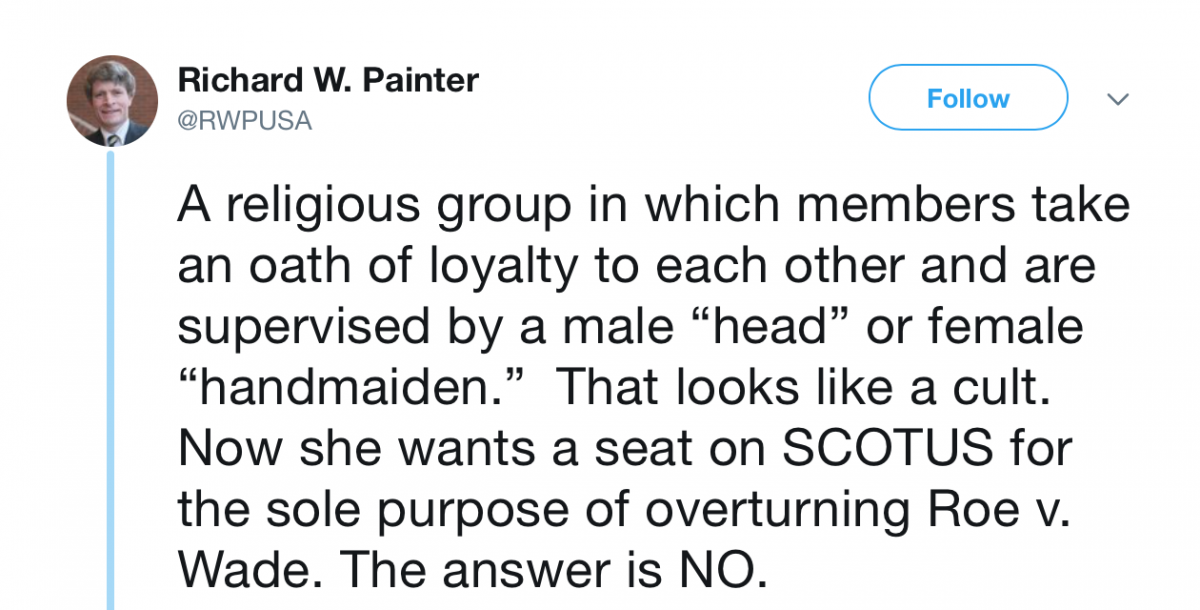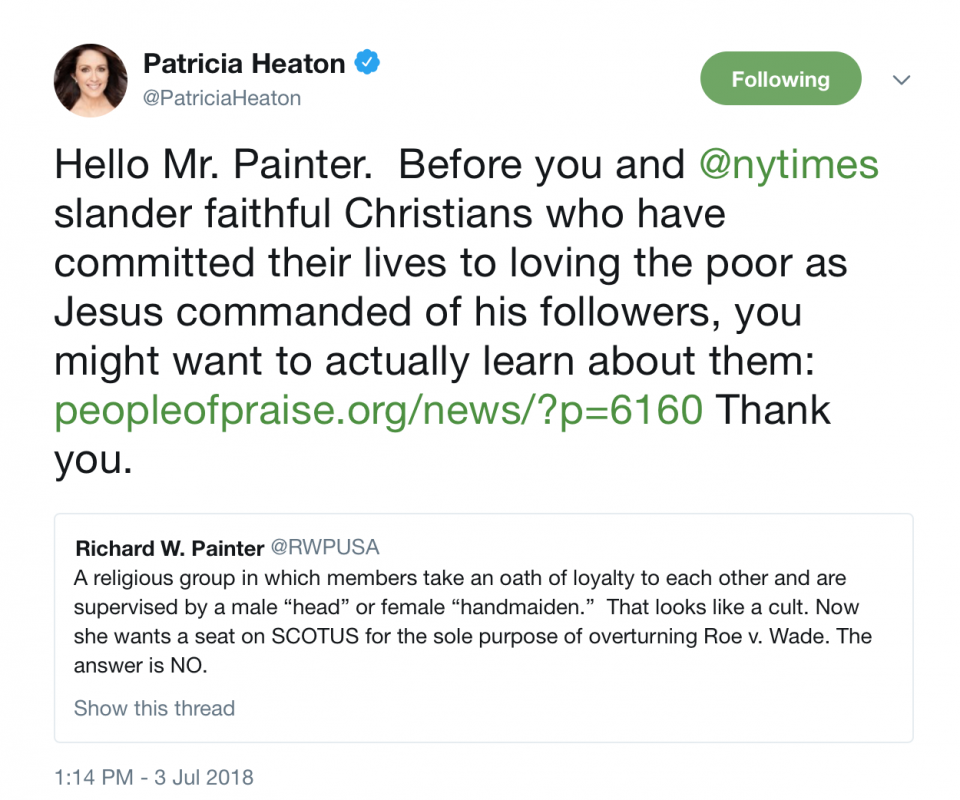 MRCTV Reader,
The liberal media are terrified of the truth, especially when it leads to uncomfortable questions about their own leftist worldview.
MRCTV is the multimedia division of MRC featuring original content and aggregated videos of the news, people, and events conservatives care about.
MRCTV relies on the support of our loyal readers (and video viewers) to keep providing the news and commentary that matter to the American people, not just stories that prop up the liberal agenda.
Make a donation today. Just $15 a month would make a tremendous impact and enable us to keeping shining the light where the liberal media are afraid to tread.
— The MRCTV Team
DONATE
Connect
Sign up for our MRCTV newsletter to receive the latest news.
Sponsored Links