Looks like yet another prominent national brand flexed their muscles before they checked to see if they had any.
A little more than two weeks after Papa John's founder John Schnatter's comments during a conference call, in which he intimated that the NFL's protests and lack of organizational leadership have hurt the pizza chain's business, the organization took to Twitter to apologize to those offended by Schnatter's comments.
Here is the initial three part tweet from Papa John's Pizza's page: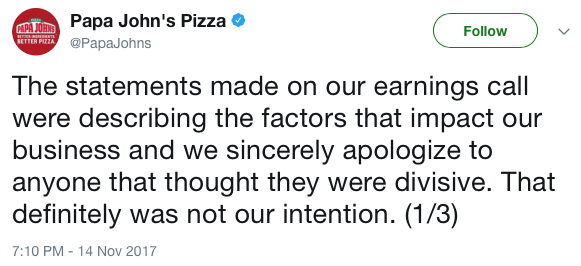 As soon as you apologize for something that doesn't warrant an apology, you lose all credibility. Have a backbone!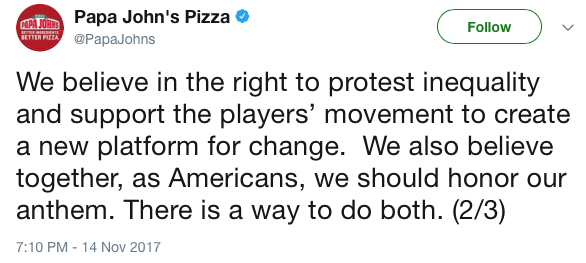 Interesting strategy to attempt to play both sides of an argument that no one will ever give an inch on. 

Oh, how brave of Papa John's to call out disgusting people who don't have anything to do with the topic.
This is a stark 180 from the position Schnatter took mere weeks ago. Either Papa John's Twitter page got hacked, or they hired a social justice mouth breather to script their tweets.
Not to be outdone, when members of the Twitterverse weren't satisfied that it took so long for Papa John's to apologize — because why respect someone who stands by their words — Papa John's responded like a subservient dog lapping up the social justice water from people who are perpetually offended. 
Here's a couple examples: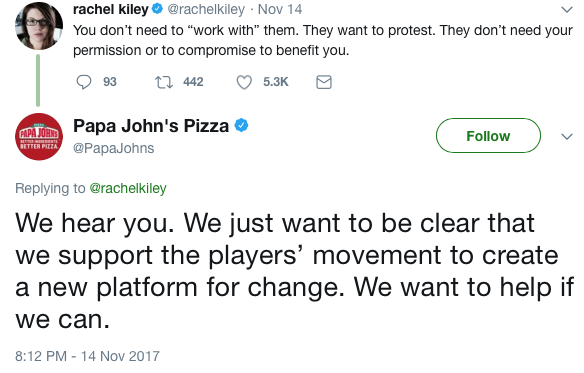 Did anyone else see the growing puddle coming from the trickling leg of Papa John's? It's just sad to see an organization acting like an obedient dog to the Left.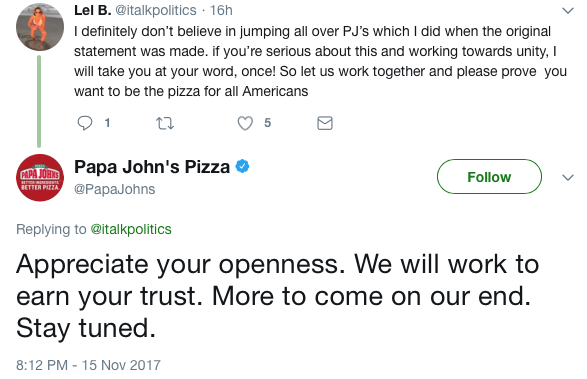 You're a pizza place. Besides not poisoning people, you literally only need to deliver in a timely matter to earn my trust. I'm not going to your company for life advice.
In another tweet, Papa John's Twitter page responded to a commenter by saying that Schnatter himself was a part of the writing process for the backtracking tweets.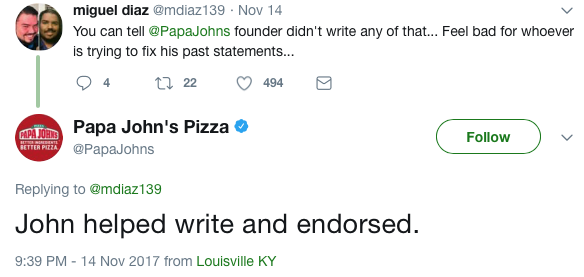 What is there to fix? Schnatter obviously didn't agree with what was going on in the NFL. He gave his opinion, and now his spine was removed.
There's no word on how Schnatter's comments affected Papa John's business, but shares of Papa John's on the Nasdaq exchange have hovered around $60/share since the founder's initial statements.
Stick to flipping pies leave the politics aside. You can't even get a slice anymore without a political discussion. Sad.