NFL protests. Dropping Sales. Papa John's.
If not for the latest move by nationwide pizza chain Papa John's, the words above might have been their new slogan.
According to ESPN Sports Business reporter Darren Rovell, Papa John's has apparently been pulling its advertisements associated with the National Football League (NFL) amid the anthem protest drama and falling ratings due to fans tuning the league out.
Here's Rovell's tweets on the matter: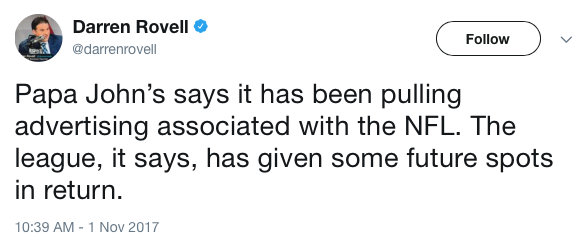 Rovell's reporting of the Papa John's NFL ads coincided with Papa John's founder John Schnatter's comments during a conference call, reported by Bloomberg.
In the call, Schnatter calls out NFL leadership, presumably pointing the finger at NFL Commissioner Roger Goodell, and the fact that the NFL hasn't properly dealt with the backlash from its players protesting during the national anthem.
"The NFL has hurt us by not resolving the current debacle to the players' and owners' satisfaction," Schnatter said. "NFL leadership has hurt Papa John's shareholders."
Schnatter didn't tip-toe around what he was getting at with his comments. The CEO, and Donald Trump presidential campaign donor, reiterated his stance on NFL brass.
"Leadership starts at the top, and this is an example of poor leadership," Schnatter continued.
Despite Schnatter's current displeasure with how the NFL is handling the protests, he did admit that should the NFL begin making concrete decisions that the NFL should see a boom in popularity once again.
"This should have been nipped in the bud a year and a half ago," Schnatter commented. "Like many sponsors, we're in touch with the NFL. Once the issue is resolved, we're optimistic the NFL's best years are ahead."
You can espouse all the "social justice" you want. But, at the end of the day, money talks and BS walks.
H/T: Bleacher Report