June 6, 1944 is a day that will forever hold a hallowed place in the annals of history.
On this day, the 72nd anniversary of D-Day, we remember those that bravely stormed the beaches of Normandy, France. We honor both those that survived, and we honor those that paid the ultimate price in the face of tyranny.
According to history.com the allied invasion, also known as Operation Overlord, involved 156,000 soldiers from the U.S., Canada and Britain storming a 50-mile stretch of beaches along the northern French coastline. The attack portion of the mission was known as Operation Neptune.
Despite the perception of many, the "D" in D-Day actually does not stand for anything. The term "D-Day" is a military term that simply means the beginning of an operation.
While the three previously mentioned nations provided the bulk of the troops for the invasion, there were other nations that participated in the attack: Australia, Belgium, Czechoslovakia, France, Greece, the Netherlands, New Zealand, Norway and Poland. The campaign led to the liberation of Northern France from Hitler's Nazi occupation, and by the Spring of 1945 the Allied forces had defeated the Germans.
The Allies' invasion also led to what some call the most brutal of the battles during World War II: the Battle of the Bulge. If you have never seen the 2001 HBO mini-series, "Band of Brothers," I highly suggest a viewing. It goes into vivid detail of not only the Battle of the Bulge but also the D-Day invasion itself.
In memory of D-Day, some have taken to Twitter to honor those brave soldiers, many of whom stormed the beach knowing they wouldn't be coming home.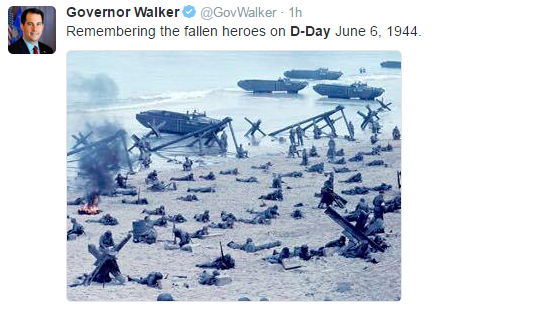 MRCTV would like to send a heartfelt thank you to all of the soldiers who fought to protect democracy in the face of fascism, and a thank you to those that still fight for freedom.
MRCTV Reader,
The liberal media are terrified of the truth, especially when it leads to uncomfortable questions about their own leftist worldview.
MRCTV is the multimedia division of MRC featuring original content and aggregated videos of the news, people, and events conservatives care about.
MRCTV relies on the support of our loyal readers (and video viewers) to keep providing the news and commentary that matter to the American people, not just stories that prop up the liberal agenda.
Make a donation today. Just $15 a month would make a tremendous impact and enable us to keeping shining the light where the liberal media are afraid to tread.
— The MRCTV Team
DONATE
Connect
Sign up for our MRCTV newsletter to receive the latest news.
Sponsored Links