James Woods sounded off in disbelief when he tweeted about Johnny Depp's recent comments about assassinating President Trump.
Speaking on Thursday at the Glastonbury arts festival in southwest England, Depp asked the audience, "Can you bring Trump here?"
"When was the last time an actor assassinated a president?," Depp  continued. "I want to clarify: I'm not an actor. I lie for a living. However, it's been awhile, and maybe it's time."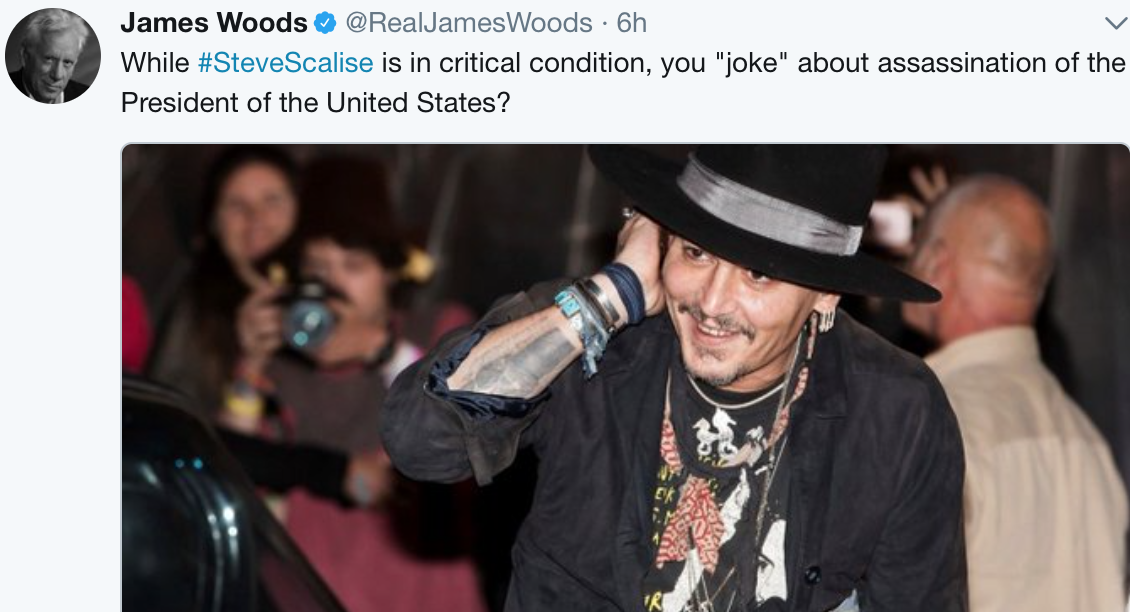 Shortly after, Woods tweeted: "While #SteveScalise is in critical condition, you 'joke' about assassination of the President of the United States?"
Thank you for supporting MRCTV! As a tax-deductible, charitable organization, we rely on the support of our readers to keep us running! Keep MRCTV going with your gift here!
MRCTV Reader,
The liberal media are terrified of the truth, especially when it leads to uncomfortable questions about their own leftist worldview.
MRCTV is the multimedia division of MRC featuring original content and aggregated videos of the news, people, and events conservatives care about.
MRCTV relies on the support of our loyal readers (and video viewers) to keep providing the news and commentary that matter to the American people, not just stories that prop up the liberal agenda.
Make a donation today. Just $15 a month would make a tremendous impact and enable us to keeping shining the light where the liberal media are afraid to tread.
— The MRCTV Team
DONATE
Connect
Sign up for our MRCTV newsletter to receive the latest news.
Sponsored Links