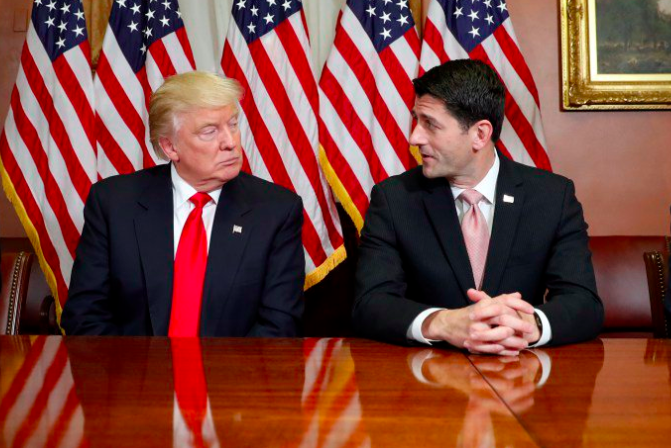 Image via Twitter
House Speaker Paul Ryan (R-Wis.) and other GOP lawmakers are urging President Trump to leave the Deferred Action for Childhood Arrivals (DACA) immigration program alone. 
Ryan in an interview with radio station WCLO on Friday said that he believes "there needs to be a legislative solution" to protect the "Dreamers" who "were brought here by their parents and don't know another home." 
"I actually don't think he should do that," he said. "And I believe that this is something Congress has to fix."
"There are people who are in limbo these are kids who know no other country, who were brought here by their parents and don't know another home," Ryan continued. "And so I really do believe that there needs to be a legislative solution, that's one that we're working on, and I think we want to give people piece of mind."
Other Republicans that oppose ending the immigration program include Arizona Sen. Jeff Flake, Utah Sen. Orrin Hatch, Colorado Rep. Mike Coffman, and Florida Rep. Carlos Curbelo.
Asked on Friday whether he's made a decision on DACA, President Trump said, "Sometime over the weekend, maybe this afternoon."
"We love the Dreamers, we love everybody," he told reporters at the White House.
His remarks come amid confusion spurred by a Fox News report on Thursday that the White House decided the program would be dismantled as it stands.
White House press secretary Sarah Huckabee Sanders denied the report, saying that a decision had not yet been finalized.
"No offense to your colleague from Fox News, but I think that I'm a little bit better informed than they are in terms of when the White House has made a decision," she said. "It has not been finalized."
DACA, enacted in 2012 under the Obama administration, makes certain illegal immigrants who entered the country as minors eligible to apply for renewable two-year visas to work and study, allowing them to remain in the U.S. without fear of deportation.
There are currently 800,000 young immigrants enrolled in the program.
Immigration advocates worry that dismantling the program would leave Dreamers vulnerable to deportation and that their DACA documentation would be used against them in deportation proceedings. 
Thank you for supporting MRCTV! As a tax-deductible, charitable organization, we rely on the support of our readers to keep us running! Keep MRCTV going with your gift here!