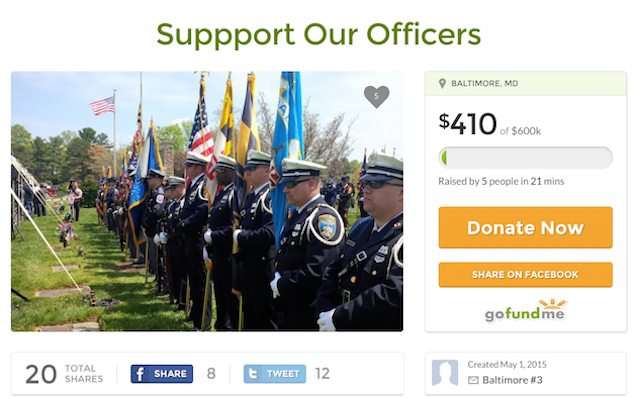 GoFundMe shut down a fundraising campaign page started by the Baltimore Police Union for the six officers charged in the death of 25-year-old Freddie Gray. The account was reportedly suspended within 40 minutes because it violated the popular crowdfunding site's terms and conditions.
GoFundMe spokesperson Kelsea Little issued the following statement on Saturday, explaining how the campaign created to raise money for the Baltimore cops' legal defense violated company policy:
"GoFundMe cannot be used to benefit those who are charged with serious violations of the law. The campaign clearly stated that the money raised would be used to assist the officers with their legal fees, which is a direct violation of GoFundMe's terms. Specifically, 'campaigns in defense of formal charges or claims of heinous crimes, violent, hateful, sexual or discriminatory acts' are not permitted on GoFundMe."
This move comes just weeks after GoFundMe suspended a crowdfunding page for the Oregon-based Christian bakery, Sweet Cakes by Melissa, currently facing discrimination charges for refusing to bake a wedding cake for a lesbian couple.
GoFundMe offered the same kind of explanation that the fundraising campaign for Sweet Cakes by Melissa involves formal legal charges and therefore stands in violation of the site's terms and conditions.