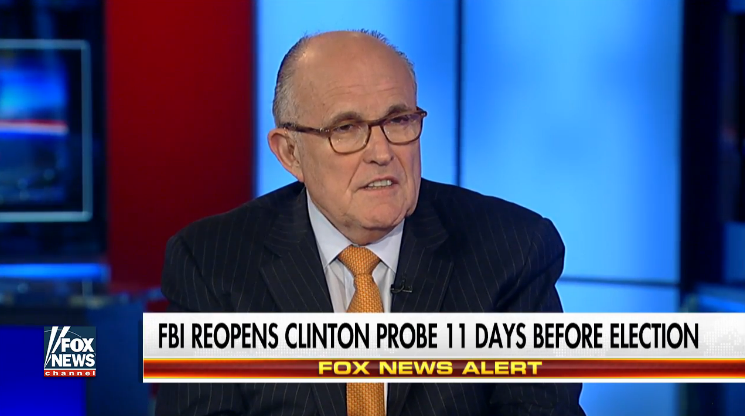 (Image via Screenshot)
FBI Director James Comey announced on Friday that the bureau is reopening its investigation into Hillary Clinton's use of a private email server as secretary of state. 
Former U.S. attorney and New York City mayor Rudy Giuliani said during a Friday interview on "Hannity" that he believes the first investigation was nothing more than "a sham" and that now the FBI is busy covering its tracks.
"The report that Comey gave to us before he came to the conclusion that [Clinton] shouldn't be prosecuted is a report that any prosecutor would've taken before a grand jury -- probably would've gotten an indictment," said Giuliani. 
"The evidence of intent is overwhelming," he argued. "The best evidence of intent are two things: False, exculpatory statements. Well, she made at least a dozen of those. Second best evidence of intent is destruction of evidence. Well, they were destroying evidence all over the place. That's how I proved intent in the hundreds of cases I prosecuted."
"The reality is the first FBI investigation was a sham," Giuliani said. 
Fox News host Sean Hannity shared with Giuliani his theory behind the reopened Clinton email case.
He said that the bureau is using emails found during its Anthony Weiner investigation as an opportunity to cover up how the FBI, the Justice Department, the State Department, and the White House colluded with the Clinton campaign.
"It looks like you have a massive conspiracy here," Rudy responded.
"This is almost now a truism, right?" he said. "The cover up is worse than the crime."
Check out the full interview below.