It's like unions just get in the way of people working in certain professions from working. The typically far-left unions, at least in concept, tell workers they're supposedly trying to support what to think in terms of how to go about their jobs, while at the same time not being the people who pay the employees. Funnily enough, unions will never forget to remind workers of the dues they "owe" the union.
In a now-deleted tweet, the Chicago Teachers Union (CTU) sent out a tweet on Sunday that made the claim that reopening schools is somehow "rooted in sexism, racism and misogyny."
These are people who advise the people that teach your children.
Here's a screenshot of the deleted tweet: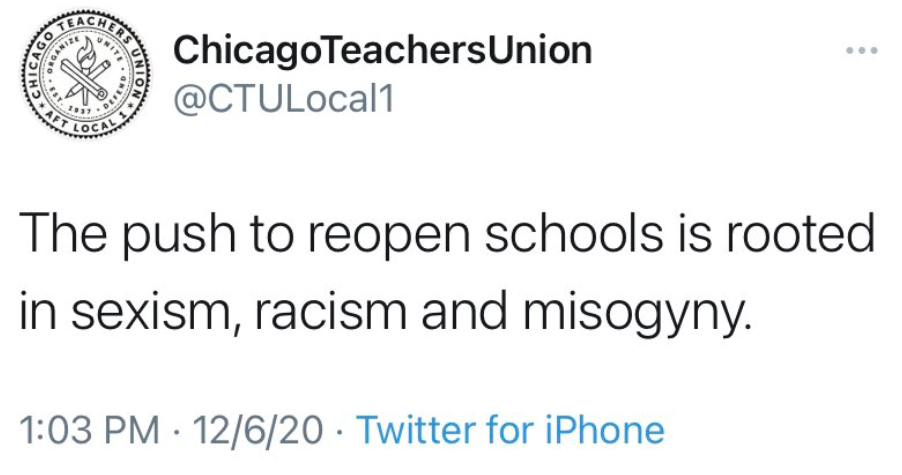 According to Fox News, the CTU apparently received a ton of backlash for making such an outlandish claim. But, as usual for hardcore leftists, they doubled-down on their rhetoric under the guise of social justice rhetoric.
Fair enough. Complex issue. Requires nuance. And much more discussion. More important, the people the decision affects deserve more. So we'll continue give them that.

Appreciate the feedback of those truly in the struggle.

— ChicagoTeachersUnion (@CTULocal1) December 6, 2020
It's almost as if the union is using the Chinese coronavirus pandemic for their own political and social reasons. Notice how they used the overused term, "the struggle."
Despite the fatality rate for school-aged children being less than half-a-percent, the typical, lazy excuses of "sexism, racism and misogyny" were trotted out by the union.
Centers for Disease Control and Prevention (CDC) Director Dr. Robert Redfield actually believes that children could go back to schools for "face-to-face learning in a safe and responsible way, as Fox News reported.
"I just think it's healthy for these kids to be in school," Redfield recently said. "That said, they got to do it safely and they've got to do it responsibly. And when this was started over the summer, no one really knew for certain. They thought that these public health measures would work. But now the data clearly shows us that you can operate these schools in face-to-face learning in a safe and responsible way."
Kids need to go back to school. They need social stimulation that online learning simply cannot provide for developing minds. If our society isn't careful, they'll have ruined an entire generation due to their own fears.