It's called victim-shaming - blaming a woman for being assaulted due to what she was wearing or how she was behaving. The point, we've been told for years by feminists and the left (and rightly so), is that what a woman wears or how she acts does not make her responsible for being attacked. The fault is with the assailant, period.
Except, perhaps, when the alleged groper is a popular left-wing leader. Entertainer Bette Midler took to Twitter on November 19 to post a picture of Leeann Tweeden, a local California news anchor and former comedian and model who accused Minnesota Democratic Sen. Al Franken Sen. Al Franken of sexual misconduct.
Last week Tweeden said that Franken groped and "forcibly kissed" her without her consent during an overseas USO tour in 2006, two years before Franken was elected to the Senate. The revelations prompted Franken to apologize and ignited calls for a Senate ethics investigation into Franken's behavior.
Midler recently tweeted out a photograph of Tweeden which first appeared in 2007 on the cover of FHM magazine. In it Tweeden is wearing lingerie. 
Midler offered this comment: "This is Al Frankel's accuser, #LeeAnnTweeden.  Better not let #Trump see this; he'll want to meet her.  Badly."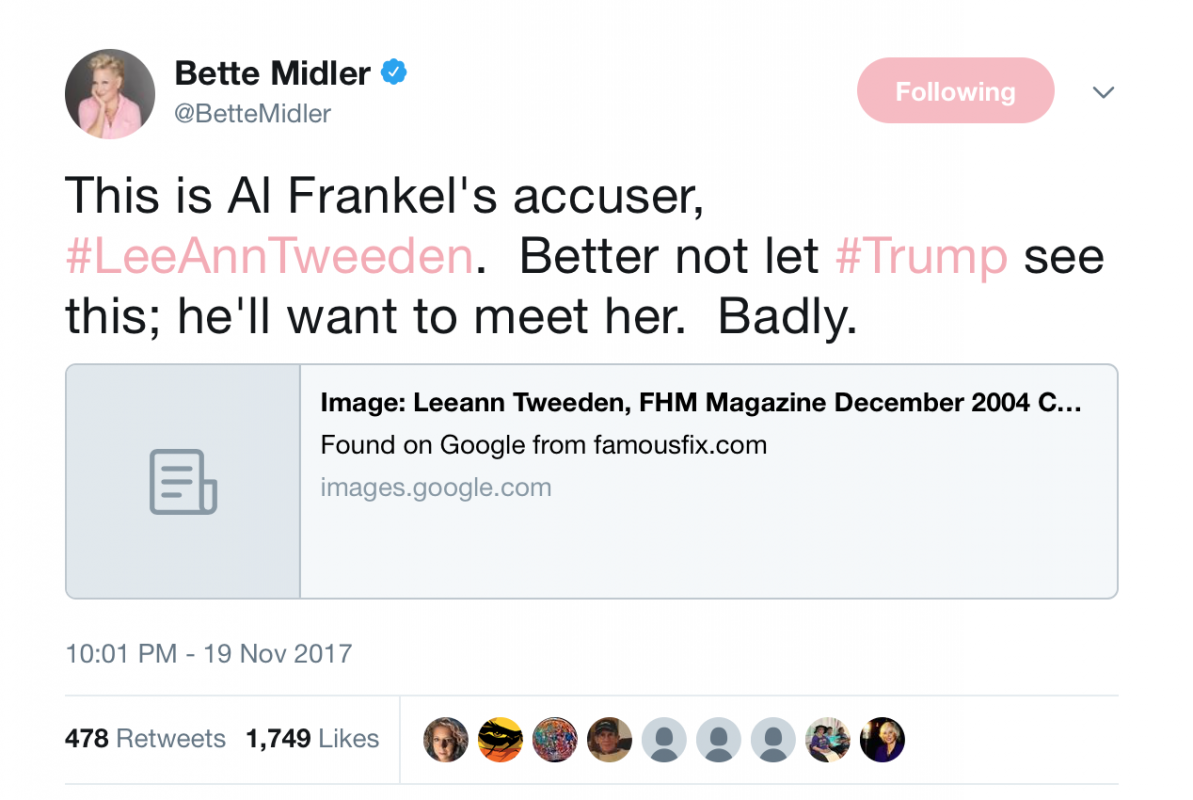 Midler's tweet does two things at once: implies that Tweeden has loose morals and may have been asking for it from Franken, and pivots attention away from Franken and on to President Trump. 
In April, when allegations of sexual misconduct were raised about Fox News personality Bill O'Reilly, Midler tweeted the following message: "Looks like Bill O'Reilly's next on the scaffold, and I'm popping Champagne! Fox watchers turn a blind eye to predators; no morality at all."