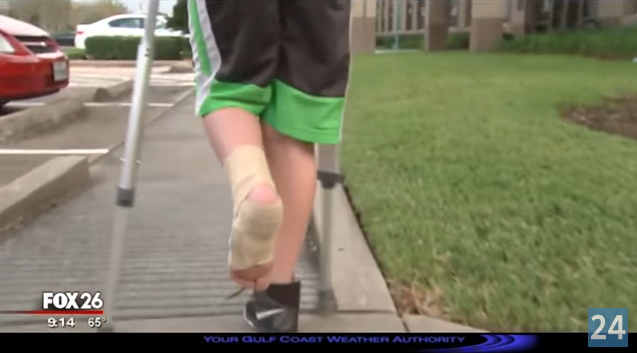 An 11-year-old student at Stafford Elementary in Texas was violently assaulted Thursday after telling his peers he voted for Donald Trump in the school's mock election.
Fox 26 Houston reports a group of boys asked the classroom, "Who voted for Donald Trump?"
The boy replied, "I did."
"And then they come over here and jerked me out of my seat," the boy told the reporter. "Before I could get up they started kicking me and punching me."
The boy, whose name is being kept private because he's a minor, is now in crutches and says when he was on the ground, it "felt like it was forever." The boy added there was a teacher in the room at the time.
"Why did it take so long for it to be stopped?" Buddy Lemmons, the boy's father, wants to know. "I know we've been very opinionated on this election, but one thing, I've never said anything to the point where I would incite violence. My son doesn't have a mean bone in his body."
The boy's family is afraid for him to return to school.
"This is America," his mother, Mary Lemmons, tearfully said. "Everybody has the right to their own opinion, and they shouldn't be beat up for it." She says her son has deep bruises throughout his body.
This is just the latest incident in a series of violence against Trump supporters. Yesterday, I reported on a man who was beaten outside of his car as people filming chanted, "You voted Trump! You shouldn't have voted Trump!"
View the report on the injured 11-year-old boy from Stafford Elementary below, via Fox 26 Houston:
Thank you for supporting MRCTV! As a tax-deductible, charitable organization, we rely on the support of our readers to keep us running! Straight from Founder and President, Brent Bozell, please read the MRC request for support here to see how you can join the movement!