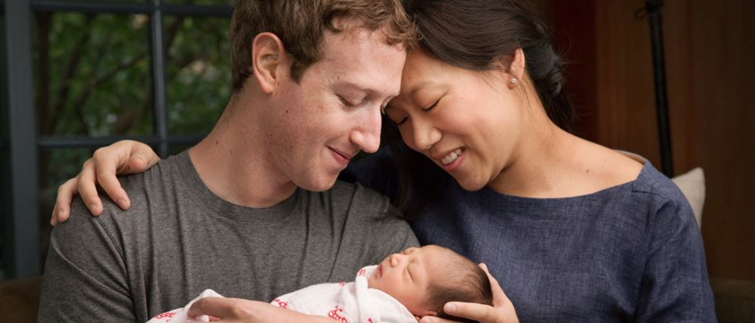 Image via Facebook
Facebook CEO Mark Zuckerberg and his wife Priscilla welcomed their daughter Max into the world on Tuesday.
"Priscilla and I are so happy to welcome our daughter Max into this world!" Zuckerberg announced on his Facebook page.
In the spirit of "Giving Tuesday," he and his wife Priscilla pledged to do their "small part" to make the world a better place for their baby girl by donating 99 percent of their Facebook shares to causes they believe in.
"We are committed to doing our small part to help create this world for all children. We will give 99% of our Facebook shares -- currently about $45 billion -- during our lives to join many others in improving this world for the next generation," he said.
In a letter to their newborn, the Zuckerbergs discuss how they hope to create "a world better than ours today" by "advancing human potential and promoting equality" for the next generation of children.
Read the full letter here. 
MRCTV Reader,
The liberal media are terrified of the truth, especially when it leads to uncomfortable questions about their own leftist worldview.
MRCTV is the multimedia division of MRC featuring original content and aggregated videos of the news, people, and events conservatives care about.
MRCTV relies on the support of our loyal readers (and video viewers) to keep providing the news and commentary that matter to the American people, not just stories that prop up the liberal agenda.
Make a donation today. Just $15 a month would make a tremendous impact and enable us to keeping shining the light where the liberal media are afraid to tread.
— The MRCTV Team
DONATE
Connect
Sign up for our MRCTV newsletter to receive the latest news.
Sponsored Links