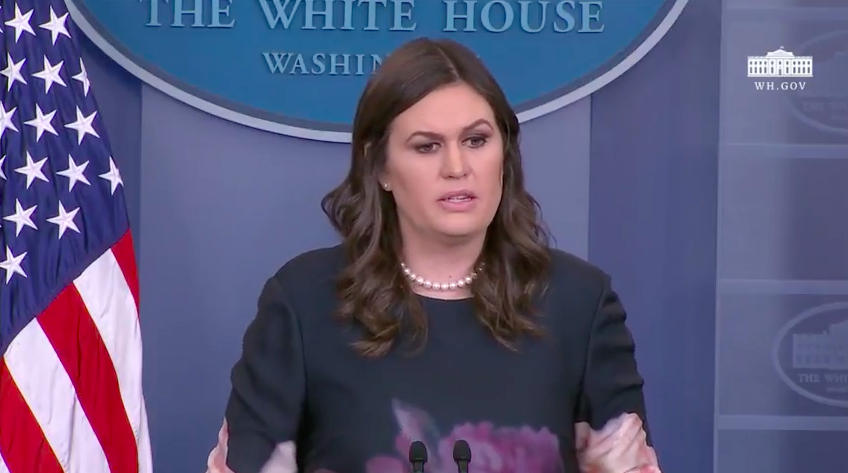 Image via Screenshot
During the first White House press briefing of 2018, White House spokesperson Sarah Huckabee Sanders voiced President Trump's support for the protests in Iran.
She said that the people of Iran "are tired of paying the price for their violent and corrupt rulers" who spend the nation's wealth on "militancy and terror abroad rather than ensuring prosperity at home."
"As a result we are now seeing an organic popular uprising organized by brave Iranian citizens on the largest scale since 2009. But the international community cannot sit silent as it did then," said Sanders, later taking a swipe at President Obama for being "too restrained" during the 2009 protests.
"The United States supports the Iranian people and we call on the regime to respect its citizens basic right to peacefully express their desire for change," she said.
When asked whether Trump would support a regime change, Sanders did not give a clear answer. She said that the Trump administration wants the Iranian people to be given basic human rights and for Iran to stop being a state sponsor of terror.
"I think that's something the whole world would like to see," said Sanders.
President Trump tweeted Tuesday morning that he supports the people of Iran "finally acting against the brutal and corrupt Iranian regime."
"All of the money that President Obama so foolishly gave them went into terrorism and into their 'pockets.' The people have little food, big inflation and no human rights. The U.S. is watching!" Trump wrote.
The protests began last week.
"The protests are the largest since the disputed 2009 presidential election," reports BBC. "They began last Thursday in the city of Mashhad, initially against price rises and corruption, but have since spread amid wider anti-government sentiment."
The Iranian government has blamed "enemies of Iran" for the uprising, which analysts say refer to Israel, the U.S., and Iran's regional rival Saudi Arabia.  
U.S. Ambassador to the U.N. Nikki Haley has called for an emergency Security Council meeting and said that the international community "must not be silent." 
"The people of Iran are crying out for freedom," Haley said on Tuesday. "All freedom-loving people must stand with their cause."
At least 22 people have died since Thursday night. 
Thank you for supporting MRTV! As a tax-deductible, charitable organization, we rely on the support of our readers to keep us running! Keep MRCTV going with your gift here!