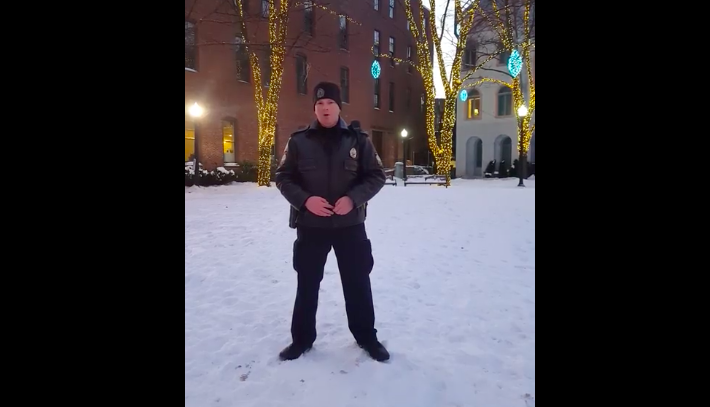 Image via Screenshot
A Maine police officer was dared to sing "O Holy Night" by a fellow officer and his rendition of the Christmas song was a hit.
The video of Portland Police Officer Jeremy Turner singing surrounding by Christmas lights and snow was originally posted on Facebook by his fellow officer, Andrew Hutchings.
Hutchings said that Turner "showcased one of his lesser known (at least around the department) talents" in one of the city's parks and that his impromptu performance "was well received" by his audience.  
The same was true online, with the post garnering over 140,000 views and 3,120 shares since it was posted on Wednesday.
The video was also shared by the Portland Maine Police Department, the City of Portland, Maine, as well as several news outlets on Facebook.  
"This video of one of Portland Maine Police Department's finest singing a Christmas carol in the Old Port is exactly the kind of news we need today. What a VOICE! So glad he shared it with us all," wrote the City of Portland, Maine.
According to the Associated Press, Turner was a music major at the University of Southern Maine before becoming a police officer.
Check out his performance below.  
MRCTV Reader,
The liberal media are terrified of the truth, especially when it leads to uncomfortable questions about their own leftist worldview.
MRCTV is the multimedia division of MRC featuring original content and aggregated videos of the news, people, and events conservatives care about.
MRCTV relies on the support of our loyal readers (and video viewers) to keep providing the news and commentary that matter to the American people, not just stories that prop up the liberal agenda.
Make a donation today. Just $15 a month would make a tremendous impact and enable us to keeping shining the light where the liberal media are afraid to tread.
— The MRCTV Team
DONATE
Connect
Sign up for our MRCTV newsletter to receive the latest news.
Sponsored Links