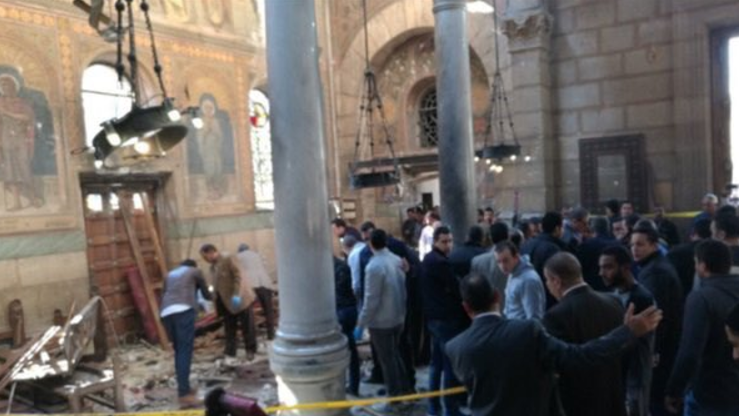 (Image via Twitter)
UPDATE 4:17 PM EST: 
Egypt's President Abdel Fattah el-Sisi on Sunday called for a state of emergency for three months, reports the Associated Press, after bombing attacks on two churches killed scores of Coptic Christians celebrating Palm Sunday. 
"El-[Sisi] accused countries he didn't name of fueling instability in Egypt, saying that 'Egyptians have foiled plots and efforts by countries and fascist, terrorist organizations that tried to control Egypt,'" writes AP. 
The U.S. State Department issued a press release on Sunday, condemning the "barbaric attacks" in "the strongest terms": 
"The United States condemns in the strongest terms the barbaric attacks on Christian places of worship in Tanta and Alexandria that killed dozens of innocent people and injured many more on this holy day of Palm Sunday," the press release reads. "We express our condolences to the families and friends of the victims and wish a quick recovery for all those injured."
"The United States will continue to support Egypt's security and stability in its efforts to defeat terrorism," writes acting State Department spokesman Mark Toner.
UPDATE 1:09 PM EST: 
According to Reuters and several other news media outlets, Egyptian President Abdel Fattah el-Sisi has deployed troops to assist local police in "protecting vital facilities across the country" following the Palm Sunday bombings that left at least 43 people killed, over 100 injured. 
UPDATE 1:02 PM EST: 
President Trump responded to the deadly bombing attacks in Egypt targetting Christians on Sunday, saying that the U.S. "strongly condemns" the acts of terror.
He tweeted Sunday afternoon that he has "great confidence" Egyptian President Abdel Fattah el-Sisi "will handle [the] situation properly." 
UPDATE 12 PM EST:
The death toll in the Palm Sunday bombings on Coptic Christian churches in Egypt has risen to 43, reports CBCNews.
The estimated number of people injured, several critically, has risen to 119.
At least 27 people were killed in the first blast at St. George church in Tanta and 16 people in the explosion at St. Mark's Cathedral in Alexandria.
The attack at St. Mark's Cathedral appears to have been a suicide bombing, according to images broadcast on Egyptian channels showing a man in a blue pullover approaching the church and then an explosion moments later.
ISIS has claimed responsibility for the two bombings, continuing its crusade against Christians in the Muslim world.
Original Story:
Two bombing attacks on Sunday at Coptic Christian churches in Egypt have left at least 37 killed, over 100 people injured.
ISIS has claimed responsibility for the two separate terror attacks on Palm Sunday, Fox News reports, starting off Holy Week in the most horrific and despicable way possible.
"The first blast happened at St. George church in the Nile Delta town of Tanta, where at least 26 people were killed and 71 others wounded, officials said," writes Fox News. "A second explosion was later reported at St. Mark's Cathedral in the coastal city of Alexandria, leaving at least 11 dead, and 35 injured. The attack came just after Pope Tawadros II -- leader of the Coptic Orthodox Church of Alexandria -- finished services, but aides told local media that he was unharmed."
The bombings took place just weeks before Pope Francis of the Catholic Church plans to visit Egypt on Apr. 28. He condemned the terror attacks on Sunday and expressed "deep condolences to my brother, Pope Tawadros II, the Coptic church and all of the dear Egyptian nation."
"I pray for the dead and the victims," he said after receiving the news during Palm Sunday Mass in the Vatican. "May the Lord convert the hearts of people who sow terror, violence and death and even the hearts of those who produce and traffic in weapons."
"The attacks were the latest in a series of assaults on Egypt's Christian minority," reports MRCTV, "which makes up around 10 per cent of the population and has been repeatedly targeted by Islamic extremists."
For more, watch the Fox News report below.
Thank you for supporting MRCTV! As a tax-deductible, charitable organization, we rely on the support of our readers to keep us running! Keep MRCTV going with your gift here!