President Trump on Sunday denounced two mass shootings in Ohio and Texas, saying "hate has no place in our country."
Trump's comments in New Jersey follow a series of tweets the president issued on the shootings over the weekend. Some of those tweets can be seen below.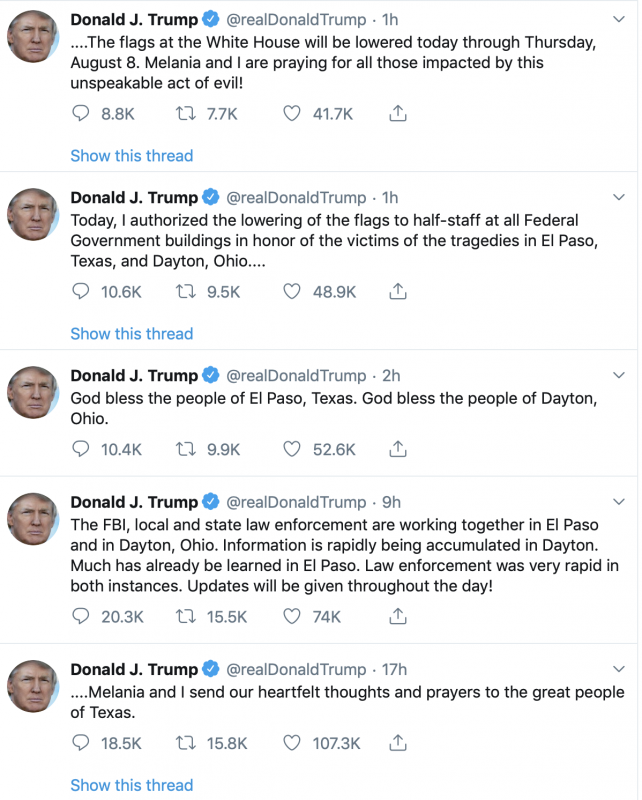 "We have to get it stopped," Trump said about the shootings. Touching upon the issue of mental illness he said, "if you look at both of these cases, this is mental illness."
Trump is expected to hold a conference on the incidents on Monday.
H/T Fox News
MRCTV Reader,
The liberal media are terrified of the truth, especially when it leads to uncomfortable questions about their own leftist worldview.
MRCTV is the multimedia division of MRC featuring original content and aggregated videos of the news, people, and events conservatives care about.
MRCTV relies on the support of our loyal readers (and video viewers) to keep providing the news and commentary that matter to the American people, not just stories that prop up the liberal agenda.
Make a donation today. Just $15 a month would make a tremendous impact and enable us to keeping shining the light where the liberal media are afraid to tread.
— The MRCTV Team
DONATE
Connect
Sign up for our MRCTV newsletter to receive the latest news.
Sponsored Links