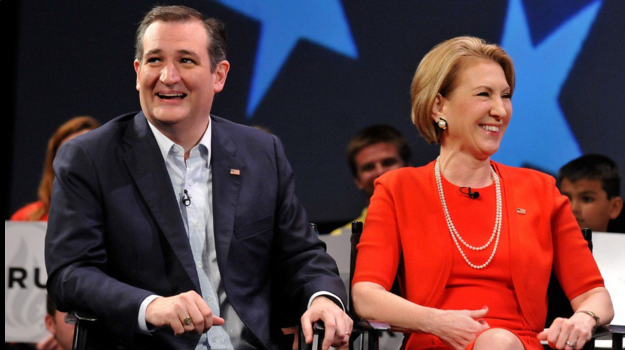 (Image via Twitter)
Ted Cruz named Carly Fiorina as his vice presidential running mate on Wednesday.
The Texas senator made the announcement at a campaign rally in Indiana ahead of the Hoosier State's primary contest next week.
"When you're running for election, the most solemn choice you can make is the choice of a vice presidential candidate," he said. "This is an individual who I trust. And even more importantly, this is an individual you can trust to lead this country no matter what might happen."
"After a great deal of consideration, I have come to the conclusion, that if I am nominated to be President of the United States, I will run on the ticket with my vice presidential nominee, Carly Fiorina." 
Sen. Cruz said that he made his decision based on the following criteria: knowledge, judgment, and character.
He boasted about Fiorina as the perfect running mate based on her education, business background, and conservative values. 
The former Hewlett-Packard CEO endorsed Cruz early March and has been campaigning on his behalf ever since.
Speculation whirled over Fiorina as Cruz's vice presidential pick after Cruz's campaign confirmed that they were vetting her as a potential running mate. 
MRCTV Reader,
The liberal media are terrified of the truth, especially when it leads to uncomfortable questions about their own leftist worldview.
MRCTV is the multimedia division of MRC featuring original content and aggregated videos of the news, people, and events conservatives care about.
MRCTV relies on the support of our loyal readers (and video viewers) to keep providing the news and commentary that matter to the American people, not just stories that prop up the liberal agenda.
Make a donation today. Just $15 a month would make a tremendous impact and enable us to keeping shining the light where the liberal media are afraid to tread.
— The MRCTV Team
DONATE
Connect
Sign up for our MRCTV newsletter to receive the latest news.
Sponsored Links