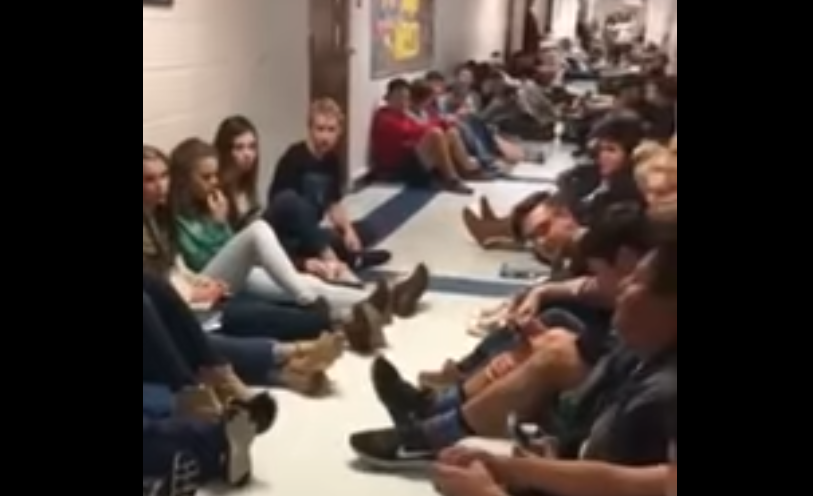 Some things just renew your faith that younger generations sometimes aren't as lost as we may typically think.
Students at a Bremen High School in Bremen, Ga. did something very surprising during a tornado warning. The students were all in the hallway seated against the wall, as students are instructed to do when a tornado warning hits.
After sitting in the hallway for more than half an hour, some students noticed that some of their special needs classmates were having a tough time dealing with how frightened they were during the warning.
"We were in the hallway for about 40 minutes, when a few students started to hum a few notes," Jamie Lipscomb, the school's chorus teacher, told FOX 5 Atlanta.
That's when members of the school's chorus sprang into action and began singing to calm down the scared students.
Even more surprising, the song they chose, called "Mary Did You Know?" was largely comprised of Christian lyrics.
The students had reportedly just been rehearsing the tune in choir. The song could be heard all the way down the hall with other students joining in.
A teacher at Bremen, Jessica Labbe, decided that this was a special moment and began to record video of the students singing, and the video's not gone viral. As of this writing, the video has over 722,000 views on Facebook.
"Mary Did You Know?" is a relatively new Christmas song in that it was written in 1991 by Gaither Vocal Band singer Mark Lowry, but it has gained mainstream notoriety in the last few years after the song has been covered by mega-stars like Cee Lo Green and the acapella group Pentatonix.
Check out the magical moment for yourself in the video below:
MRCTV Reader,
The liberal media are terrified of the truth, especially when it leads to uncomfortable questions about their own leftist worldview.
MRCTV is the multimedia division of MRC featuring original content and aggregated videos of the news, people, and events conservatives care about.
MRCTV relies on the support of our loyal readers (and video viewers) to keep providing the news and commentary that matter to the American people, not just stories that prop up the liberal agenda.
Make a donation today. Just $15 a month would make a tremendous impact and enable us to keeping shining the light where the liberal media are afraid to tread.
— The MRCTV Team
DONATE
Connect
Sign up for our MRCTV newsletter to receive the latest news.
Sponsored Links