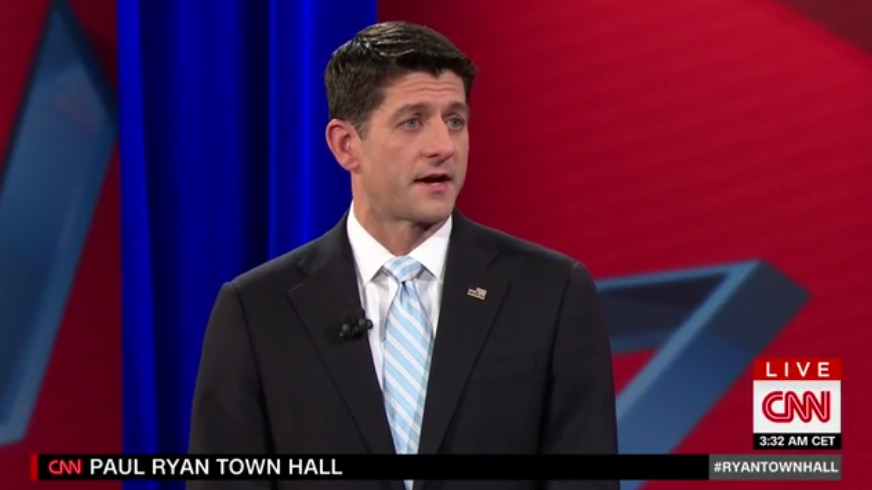 (Image via Screenshot)
Speaker of the House Paul Ryan (R-Wisc.) said during a town hall event hosted by CNN Thursday night that he "completely understands" why President-elect Donald Trump would be frustrated with the intelligence community after Buzzfeed published a piece this week claiming he has "deep ties" to Russia.
"I think as Donald himself gets to know the intelligence community as I know them very well," said Ryan. "I think he's going to learn that there's a lot of good men and women in the intelligence community that risk their lives for this country to keep us safe."
"But I completely understand why he's frustrated that – what, eight, nine days before his inauguration – this junk gets thrown out there," he added.
Speaker Ryan said that he agrees with the President-elect – to a degree – that U.S. intelligence has been politicized following his victory in the election. 
"I think it has been politicized … and I think that's wrong," he said.
Buzzfeed published a piece on Tuesday, which their editor-in-chief Ben Smith and the authors admitted was completely unverified and erroneous, that claims that the Russian government has compromising information on Trump and had helped him win the election.
Trump during a press conference on Wednesday condemned Buzzfeed as "irresponsible" and denounced the story as "fake news."  
Media Research Center President Brent Bozell similarly criticized Buzzfeed in a statement on Wednesday and called the media to publicly rebuke fake news stories.