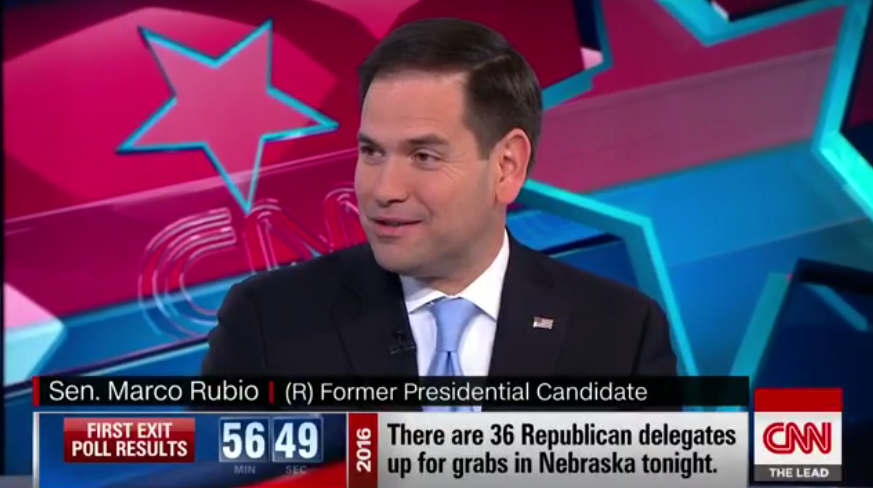 (Image via Screenshot)
In an interview with CNN's Jake Tapper on Tuesday, Florida Sen. Marco Rubio (R) shot down any possibility of being Donald Trump's vice presidential pick.
Rubio noted that no one on the Trump campaign has approached him to discuss running for Vice President - and that Trump would be "best served by picking someone" who is "enthusiastic" about what he stands for. 
"My differences with Donald, both my reservations about his campaign and my policy differences with him, are well-documented and they remain," said Rubio. "I think he would be best-served by having people close to him and his campaign that are enthusiastic about the things he stands for."
"And that's certainly not me," he later added.
When asked whether he plans to vote for Trump in the general election come November, Rubio said, "I intend to live up to the pledge that we made," referring to the pledge candidates signed to support the Republican Party's nominee.  
"I don't want Hillary Clinton to win," he said.
Rubio noted that he still has concerns about Trump and his views on foreign policy, among other issues.
The Florida senator repeatedly said that he will not be "taking shots" at Trump over the next six months.
"My job over the next six months is not to sit here and to be taking shots at him," said Rubio. "He won the nomination. Now he deserves the opportunity to go out and make his case to the American people."
He remains undecided on whether he will be attending the Republican National Convention in July. 
Watch a clip from his interview below.