President Trump on Friday announced that his budget director Mick Mulvaney would serve as his acting White House chief of staff, replacing the current chief of staff Gen. John Kelly.  
"I am pleased to announce that Mick Mulvaney, Director of the Office of Management & Budget, will be named Acting White House Chief of Staff, replacing General John Kelly, who has served our Country with distinction," Trump said in a tweet.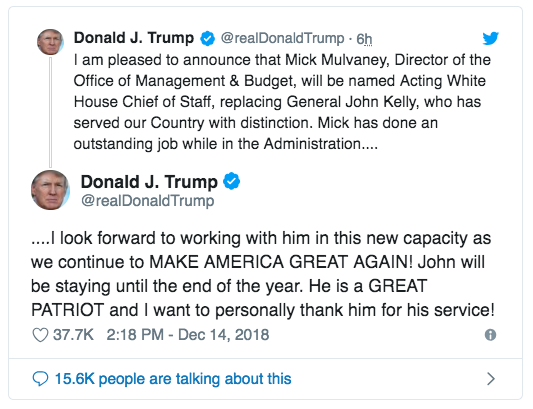 He later added, "For the record, there were MANY people who wanted to be the White House Chief of Staff. Mick M will do a GREAT job!"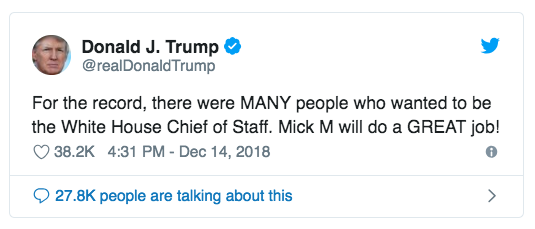 His announcement comes after days of Trump defending himself and the job of his chief of staff as a well-sought-after position.  
Mulvaney, the current director of the Office of Management and Budget (OMB), will take over the job from Gen. Kelly, who is expected to leave by the end of the year.   
Kelly will have been in the position for five months upon his departure. 
MRCTV Reader,
The liberal media are terrified of the truth, especially when it leads to uncomfortable questions about their own leftist worldview.
MRCTV is the multimedia division of MRC featuring original content and aggregated videos of the news, people, and events conservatives care about.
MRCTV relies on the support of our loyal readers (and video viewers) to keep providing the news and commentary that matter to the American people, not just stories that prop up the liberal agenda.
Make a donation today. Just $15 a month would make a tremendous impact and enable us to keeping shining the light where the liberal media are afraid to tread.
— The MRCTV Team
DONATE
Connect
Sign up for our MRCTV newsletter to receive the latest news.
Sponsored Links