Defenders of the Second Amendment might have a problem with a new bill introduced in the Illinois State House that would require Illinois residents to "reveal their public social media accounts to Illinois police before they're approved for a firearm license," according to CBS 2 - Chicago.
Illinois State Rep. Daniel Didech (D-Buffalo Grove) recently introduced bill HB 888 to the Illinois House of Representatives. The bill was introduced in January, but is now receiving local and national attention.
"A lot of people who are having mental health issues will often post on their social media pages that they're about to hurt themselves or others," Didech said. "We need to give those people the help they need."
Didech tweeted about his two bills, one of which is HB 888:
Today I filed my first two bills:

HB 887 would close a loophole that allows convicted stalkers to come to Illinois and purchase firearms.

HB 888 would allow the ISP to review social media accounts for information that would disqualify someone from purchasing a firearm. #twill pic.twitter.com/VV8uHpxgzB

— Rep. Daniel Didech (@RepDidech) January 24, 2019
CBS 2 - Chicago also reported that ACLU Illinois representative Rebecca Glenberg said that the bill "doesn't say anything about how that list will be retained and for how long and what uses it might be put to."
"A person's political beliefs, a person's religious beliefs, things that should not play a part in whether someone gets a FOID [Firearm Owner Identification] card," Glenberg also said.
But, Glenberg wasn't the only one upset about the proposed bill.
"When people look at this everyone who has a Facebook account or email account or Twitter account will be incensed or should be," Illinois State Rifle Association representative Richard Pearson said.
People on Twitter weren't exactly pleased either: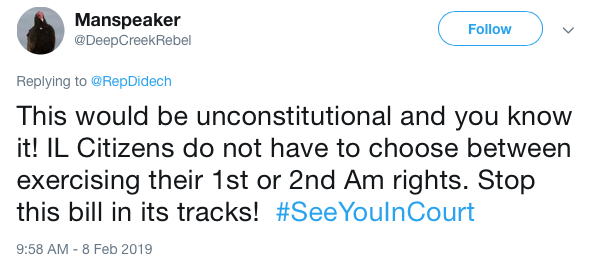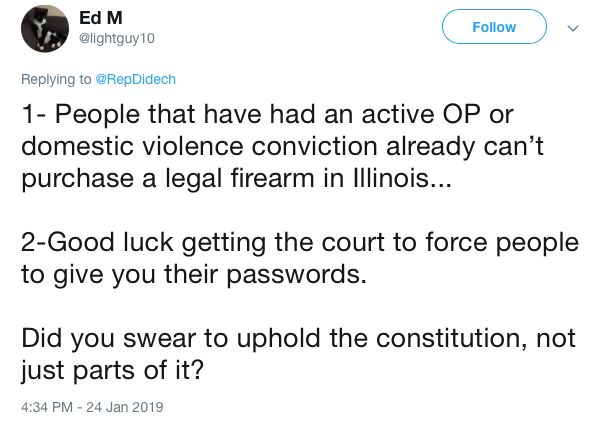 CBS 2 - Chicago also reported that Didech said his bill isn't as "intrusive" as other states, including New York:
Didech says his bill is a less intrusive version of a similar measure that's been proposed in New York state. That version allows police to recover a gun license applicant's entire browsing history. Even Didech says that goes too far.
For local coverage of the proposed bill, watch below: