With the country's biggest topic of contention between the two major political parties continuing to be immigration, President Trump announced on Twitter on Monday that he will be addressing the nation on Tuesday concerning "the Humanitarian and National Security crisis on our Southern Border."
Here's the president's tweet:
I am pleased to inform you that I will Address the Nation on the Humanitarian and National Security crisis on our Southern Border. Tuesday night at 9:00 P.M. Eastern.

— Donald J. Trump (@realDonaldTrump) January 7, 2019
Trump's address comes amid a contentious battle between Democrats and Republicans on whether to build a border wall with Mexico. The topic has produced so much conflict among politicians that the partial government shutdown, caused by Washington D.C. elites' need to disagree with their counterparts, is entering its third week.
Right on cue, radical Leftists responded to Trump's benign tweet: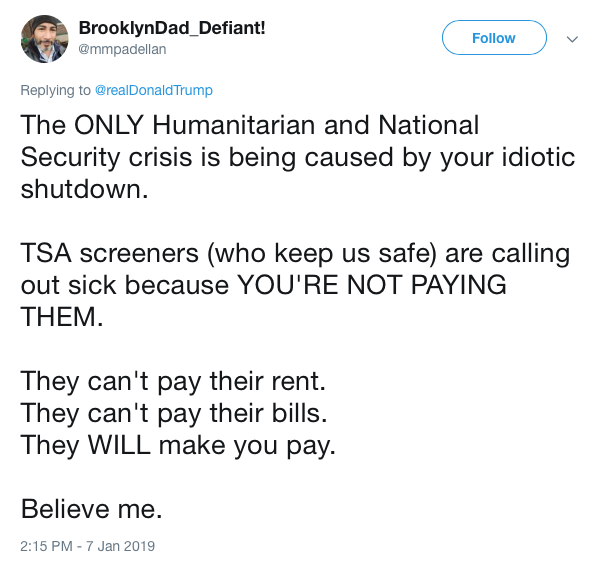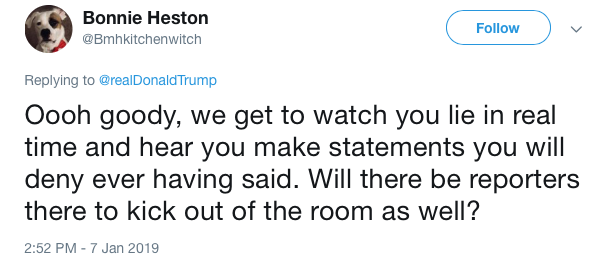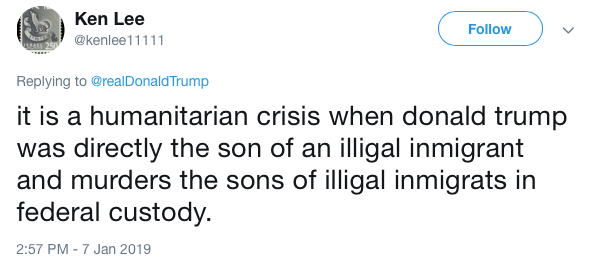 Well, I didn't say the tweets would display any level of sanity. You'd think that people who enjoy talking smack to the president would show some kind of grammar comprehension, but that would be asking for too much as well.
MRCTV Reader,
The liberal media are terrified of the truth, especially when it leads to uncomfortable questions about their own leftist worldview.
MRCTV is the multimedia division of MRC featuring original content and aggregated videos of the news, people, and events conservatives care about.
MRCTV relies on the support of our loyal readers (and video viewers) to keep providing the news and commentary that matter to the American people, not just stories that prop up the liberal agenda.
Make a donation today. Just $15 a month would make a tremendous impact and enable us to keeping shining the light where the liberal media are afraid to tread.
— The MRCTV Team
DONATE
Connect
Sign up for our MRCTV newsletter to receive the latest news.
Sponsored Links