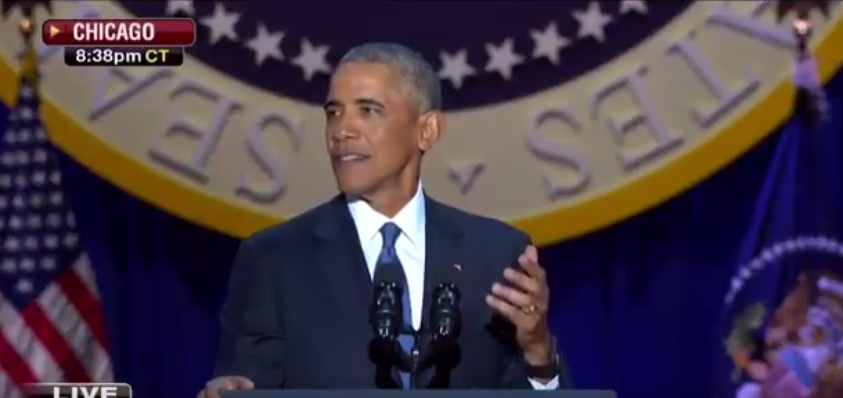 (Image via Screenshot)
President Obama, as he concluded his farewell address in Chicago on Tuesday, called the U.S. Constitution "just a piece of parchment."
"Our Constitution is a remarkable, beautiful gift," said Obama. "But it's really just a piece of parchment."
"It has no power on its own," he went on. "We the people give it power. We the people give it meaning with our participation and with the choices that we make and the alliances that we forge…"
He later said that as he steps down from the presidency, he plans to play an active role in "the most important office in a democracy: citizen." 
Many of his critics would argue that his statement on the Constitution alone sums up his legacy.
What do you think? Let us know in the comments section below! 
MRCTV Reader,
The liberal media are terrified of the truth, especially when it leads to uncomfortable questions about their own leftist worldview.
MRCTV is the multimedia division of MRC featuring original content and aggregated videos of the news, people, and events conservatives care about.
MRCTV relies on the support of our loyal readers (and video viewers) to keep providing the news and commentary that matter to the American people, not just stories that prop up the liberal agenda.
Make a donation today. Just $15 a month would make a tremendous impact and enable us to keeping shining the light where the liberal media are afraid to tread.
— The MRCTV Team
DONATE
Connect
Sign up for our MRCTV newsletter to receive the latest news.
Sponsored Links