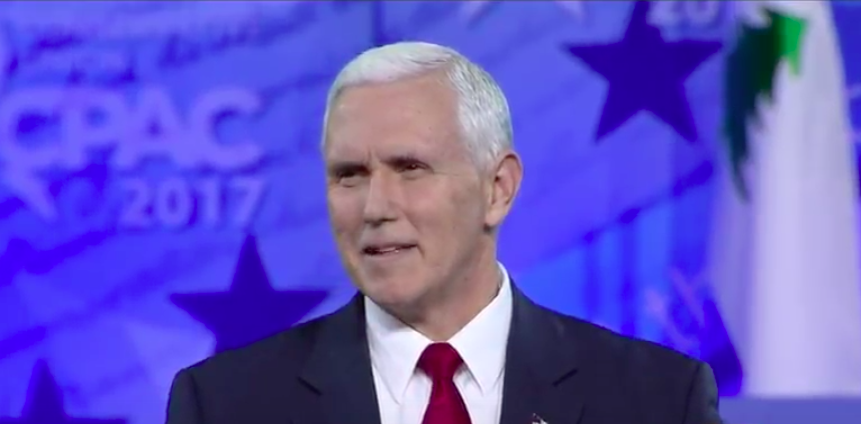 (Image via Screenshot)
Vice President Mike Pence addressed the Conservative Political Action Conference (CPAC) Thursday night.
During his remarks, Pence described President Donald Trump as a modern-day President Ronald Reagan. 
"From the onset, our President reminded me of somebody else," said Pence, "a man who inspired me to actually join the cause of conservatism nearly 40 years ago: President Ronald Reagan."
He argued that Trump has "given voice to the aspirations and frustrations of the American people like no leader since Reagan," and that he succeeded in reigniting the conservative cause "in our own day." 
"I just knew our new President would reignite our cause and renew it in our own day, and he did just that," said Pence. 
"And you know what? The establishment never saw it coming," he went on. "The media, the elites, the insiders, everybody else who profits off of preserving the status quo – they dismissed our President in every step of the way. And in dismissing him, they also dismissed the millions of the hardworking forgotten men and women who make this country great."
"And worse yet, they're still trying to dismiss him," said Pence. "They're still trying to dismiss all of us. What they should've learned on election day is, this is not a government of the elites, by the media, or for the establishment… This is still government of the people, by the people and for the people."
President Donald Trump will be speaking at the conference for conservative activists Friday morning at 10 A.M. EST.
Watch CPAC 2017 live below.
Thank you for supporting MRCTV! As a tax-deductible, charitable organization, we rely on the support of our readers to keep us running! Keep MRCTV going with your gift here!