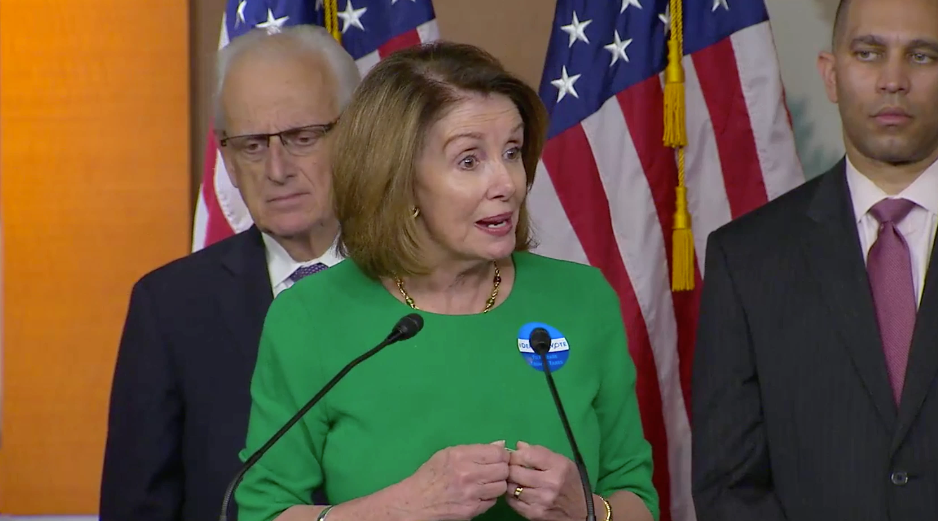 House Minority Leader Nancy Pelosi (D-Calif.) thanked Republicans for making the Affordable Care Act (known as Obamacare) more popular.
While fielding a question during a press briefing about President Trump's tax returns on Wednesday, Pelosi said, "But I have to thank the Republicans, because you know what? A few months ago, right before this all started, the Affordable Care Act was at, like, 42 percent favorable to 52 [percent] negative because of the misrepresentations that the Republicans put out there."
"The Gallup poll yesterday has it at, what, 55 [percent] positive on the Affordable Care Act, 42 [percent] negative. Completely reversed it. As people understand what it means to them in their lives, they understand that the Republicans are not acting in their interest," she continued.
The April Gallup poll shows, when asked if they "generally approve" of the Affordable Care Act, which "restructured the U.S. healthcare system," 55 percent now say they approve, up from compared to 42 percent in November, while 41 percent disapprove. In the poll from Nov. 2016, 53 percent disapproved of the Affordable Care Act and 42 percent approved.
However, the latest poll from April also reveals that out of all U.S. adults, a plurality of respondents (40 percent) support keeping the Affordable Care Act in place but with "significant changes" made to the law. Another 30 percent of respondents support a full "repeal and replace" of the law, while only 26 percent want to keep the Affordable Care Act "in place as it is."
Even a plurality of Democrats were shown to support making "significant changes" to the Affordable Care Act, with 47 percent responding they want to make "significant changes" to the law, compared to only 44 percent who want to keep it "in place as it is," and five percent who support "repeal and replace."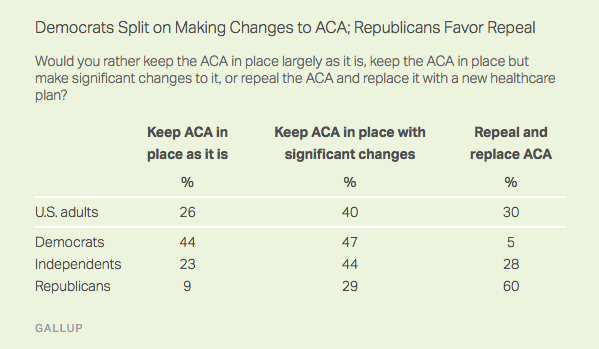 (Image source: Gallup)
Thank you for supporting MRCTV! As a tax-deductible, charitable organization, we rely on the support of our readers to keep us running! Keep MRCTV going with your gift here
MRCTV Reader,
The liberal media are terrified of the truth, especially when it leads to uncomfortable questions about their own leftist worldview.
MRCTV is the multimedia division of MRC featuring original content and aggregated videos of the news, people, and events conservatives care about.
MRCTV relies on the support of our loyal readers (and video viewers) to keep providing the news and commentary that matter to the American people, not just stories that prop up the liberal agenda.
Make a donation today. Just $15 a month would make a tremendous impact and enable us to keeping shining the light where the liberal media are afraid to tread.
— The MRCTV Team
DONATE
Connect
Sign up for our MRCTV newsletter to receive the latest news.
Sponsored Links