If you ever wondered what the definition of self-righteousness is, all you had to do was watch the Razzie-worthy performance of MSNBC's Mika Brzezinski on Monday morning's edition of "Morning Joe." Brzezinski huffed and puffed in a weak attempt to produce tears that turned out to be a fruitless endeavor.
According to Brzezinski and her convenient fiancee Joe Scarborough, because President Trump tweeted about the fourth game of the 2018 World Series late Saturday evening, he gave ammunition to "white nationalists" and "supremacists" to downplay the seriousness of national tragedies.
The display put on by Brzezinski and Scarborough was pathetic, and they should be ashamed of themselves for their own role in drumming up the divisions in our country that only get wider with dishonest and dangerous rhetoric.
I can't. I just can't. Take a look for yourself, and tell me that these two aren't complete brainwashed puppets:
Brzezisnki's audible sighs, like she was trying to choke back tears, was sad. That's the best word I can use to describe the propaganda puppet show put on by these two.
"He's tweeting about baseball, bullpen strategy the very same day of the synagogue slaughter, as if to send a message, as you said, Joe, to his adoring white nationalist fans that the murdering of these worshipers was not even a concern," Brzezinski actually said. "That's the message it sends, to be clear."
That's the message it sends to Brzezinski's brain. But, to be fair, that's what happens when you've had too many cups of "Morning Joe." 
Here's the tweet that Brzezinski found to be completely unnecessary: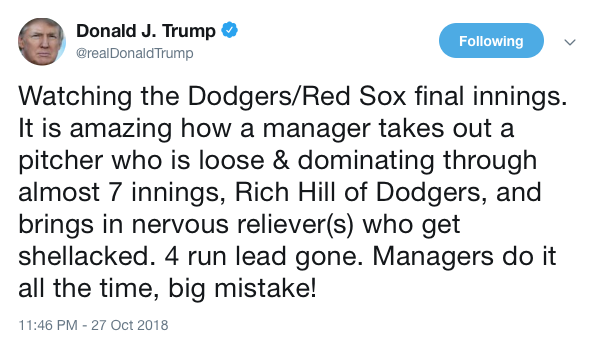 To be fair to Trump, the president tweeted about the tragic, anti-semitic shooting at the Tree of Life Synogogue in Pittsburgh, Pa. hours before he tweeted about the World Series. Trump also made public comments on Saturday condemning anti-semitism, calling it "pure evil."
You can check out both the tweet and Trump's public comments below: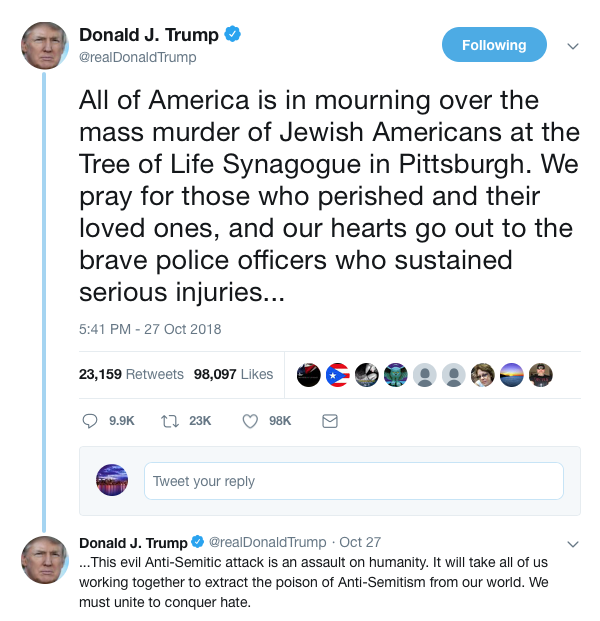 Despite Trump condemning anti-semitism, Brzezinski, Scarborough and the rest of the parasites at MSNBC decided to ignore the condemnation in favor of a light-hearted comment the president made about his hair. The pair noted that the comment was indicative of Trump's flippant attitude towards tragedies during his entire presidency.
Brzezinski and Scarborough's obsession with racism, white supremacists and nationalists, while trying to connect a president that they clearly don't like to those entities, just further proves how petty, small-minded and dimwitted they are in their search to portray themselves as anything other than mannequins positioned by the people who pay their salaries.
People like Brzezinski and Scarborough are the definition of the reasons people don't trust the media any longer. They aren't the only ones, but they certainly use the platform afforded to them to widen the divisions that the logical and reasonable among us try to stay away from.
Pathetic displays, like the one Brzezinski and Scarborough put on Monday morning, is the exact reason why I refuse to watch news in any capacity besides clips I need to watch for this job.
Stop listening to these people. They are the ones who are truly hazardous to your health.