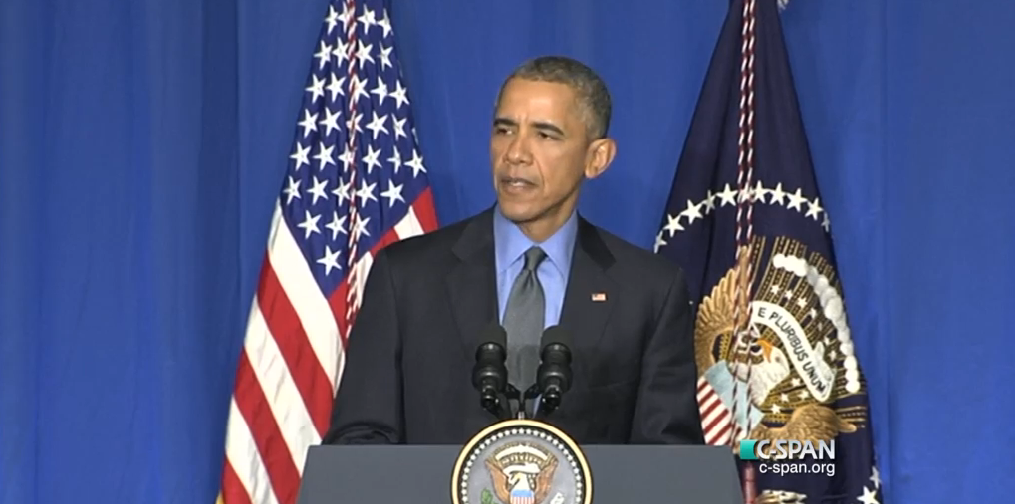 Image via Screenshot
President Obama held a news conference in Paris Tuesday morning where he attempted to justify focusing the bulk of his energy and resources - even "military resources" - on global warming, as opposed to the war on terror.
The president called climate change an "economic and security imperative," a "trend" that "affects all trends," including the growth of radical Islamic extremism.
"I know some have asked why the world would dedicate some of our focus right now to combating climate change even as we work to protect our people and go after terrorist networks," said Obama. "The reason is because this one trend – climate change – affects all trends."
"If we let the world keep warming as fast as it is, and sea levels as fast as they are, and weather patterns keep shifting in more unexpected ways, then before long, we are gonna have to devote more and more of our economic and military resources – not to growing opportunity for our people – but to adapting to the various consequences of a changing planet," he argued.
"This is an economic and security imperative that we have to tackle now," said Obama. 
Obama went on to say that he hopes that the United Nations Climate Change Conference in Paris will lead to "an enduring framework for progress" and a "low carbon future."
Participating nations will discuss emissions targets and how to keep each other accountable.
Watch a short video clip of his remarks below.
To listen to Obama's full remarks, click here. 
MRCTV Reader,
The liberal media are terrified of the truth, especially when it leads to uncomfortable questions about their own leftist worldview.
MRCTV is the multimedia division of MRC featuring original content and aggregated videos of the news, people, and events conservatives care about.
MRCTV relies on the support of our loyal readers (and video viewers) to keep providing the news and commentary that matter to the American people, not just stories that prop up the liberal agenda.
Make a donation today. Just $15 a month would make a tremendous impact and enable us to keeping shining the light where the liberal media are afraid to tread.
— The MRCTV Team
DONATE
Connect
Sign up for our MRCTV newsletter to receive the latest news.
Sponsored Links