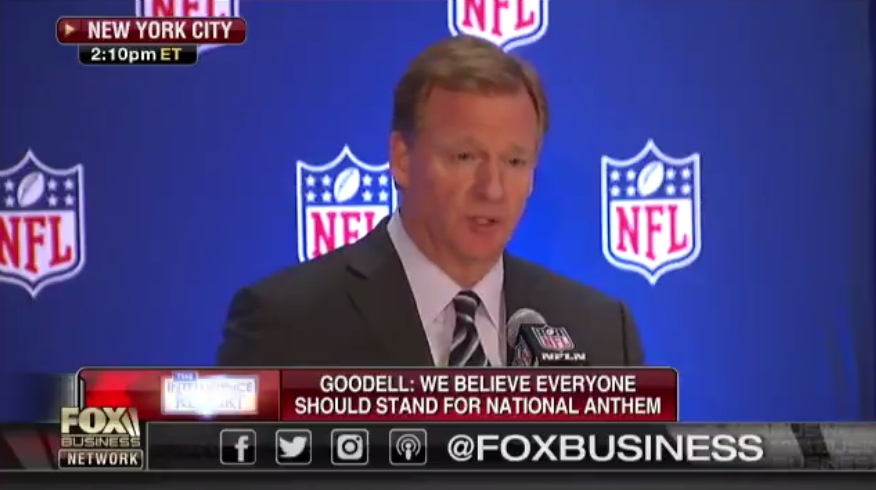 Image via Screenshot
After a second day of meetings with NFL team owners, NFL Players Association executives and player leaders, NFL Commissioner Roger Goodell on Wednesday held a press conference where he said that while the professional football league believes players "should stand for the National Anthem," they are not and will not be required to.  
"There's a great deal of support for the efforts that our players have identified … These are important issues for our communities," he said. "They're American issues and certain things that we really want to as clubs and as a league, want to not only support but also be a part of and also try to help and lead with our players."
"We also spent a great deal of time talking about how much we believe that everyone should stand for the National Anthem," Goodell went on. "That's an important part of our policy. It's also important for our game that we take great pride in. It's also important to honor our flag and our country and we think our fans expect us to do that."
"But really talking a lot about the opportunity that exists with our players to try to go and really make a difference in our communities in a positive way," he said.  
In response to President Trump's tweet Wednesday morning saying that the NFL is showing "total disrespect for our great country" by not forcing players to stand for the anthem, Goodell said, "We respect our country, we respect our flag, we respect our National Anthem. I think you look at our clubs and what they do on a daily basis; we look at our players and what they do and how they participate in that. We all feel very strongly about our country and our pride and we'll continue to do that."
He defended NFL players who continue to protest despite fan upset, saying, "They are not doing this in any way to be disrespectful to the flag."
Goodell later added that he wants the league to "get back to football."
Thank you for supporting MRCTV! As a tax-deductible, charitable organization, we rely on the support of our readers to keep us running! Keep MRCTV going with your gift here!