Who wants some more evidence of blatantly biased reporting? Wait no longer.
MSNBC's Kasie Hunt said, on live television Monday, that the Nov. 3 attack that left Sen. Rand Paul (R-Ky.) with six broken ribs and fluid between his chest and lungs was one of her "favorite stories."
"New details today on the incident that left Sen. Rand Paul with six broken ribs," Hunt said. "This might be one of my favorite stories, although, of course, we don't want — clearly Senator Paul is still struggling."
Notice how Hunt attempted to walk back her comment immediately — the producers were probably yelling in her ear — but thought better of it and continued on with the show.
Eventually, Hunt did apologize, but not on-air. She of course took the easy way out and apologized on Twitter.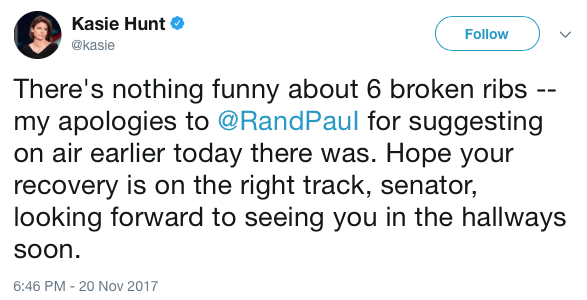 Maybe if Hunt just straight reported a story, her bias wouldn't show and more people might respect her. This just makes Hunt look petty and small.
The GQ article Hunt was reporting on claimed that "neighbors" told writer Ben Schreckinger — who "slipped inside Rand Paul's gated Kentucky community" — that the altercation was based on a landscaping dispute between Paul and neighbor Rene Boucher. GQ reported this despite the Washington Examiner reporting almost two weeks ago that Paul's neighbors didn't think landscaping was at the heart of the problem.
For video of Hunt's faux pas, watch below:
H/T: Townhall
MRCTV Reader,
The liberal media are terrified of the truth, especially when it leads to uncomfortable questions about their own leftist worldview.
MRCTV is the multimedia division of MRC featuring original content and aggregated videos of the news, people, and events conservatives care about.
MRCTV relies on the support of our loyal readers (and video viewers) to keep providing the news and commentary that matter to the American people, not just stories that prop up the liberal agenda.
Make a donation today. Just $15 a month would make a tremendous impact and enable us to keeping shining the light where the liberal media are afraid to tread.
— The MRCTV Team
DONATE
Connect
Sign up for our MRCTV newsletter to receive the latest news.
Sponsored Links