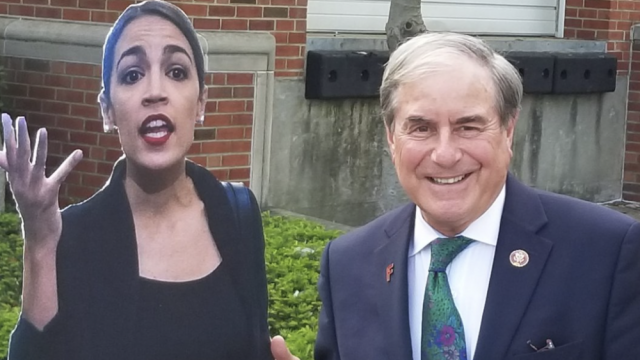 MRCTV Podcast: A Collection Of AOC's Mind-Numbing Moments
Since her campaign for Congress, Rep. Alexandria Ocasio-Cortez (D-N.Y.) has delivered many moments that, when witnessed, have resulted in facepalms across the country.
This slideshow presents a short list, for even more, checkout the MRCTV Podcast above.
#5.

AOC Accuses the GOP of Sexism For 'Posing' Beside Her Likeness - Except It Was a Democrat
When trying to take a jab at your opponent, it's important to remember to aim.
That's a step Democratic N.Y. Rep Alexandria Ocasio-Cortez apparently forgot in her effort to snarkily respond to her "GOP" haters over this photo, showing Kentucky Rep. John Yarmuth posing with a cardboard cutout of her likeness:
AOC immediately took to Twitter to accuse Republicans of sexism, saying they "pose [their] older male members next to cardboard cutouts of young female legislators."
There's just one problem: Yarmuth? The guy in the photo?
He's a Democrat. In fact, he's the only Democrat congressman in Kentucky, and serves in the same legislative body as AOC.