Media Research Center (MRC) President Brent Bozell recently laid out five major stories the media ignored in order to steal the 2020 presidential election.
During an appearance on WMAL's 'Mornings On The Mall' radio show Monday, Bozell discussed a new study showing how the media impacted the presidential election, by suppressing positive Trump stories and working to hide damaging stories about Joe Biden from voters.
"33.1% economic growth in the third quarter. How could that not be a story? 49% of Biden's voters - didn't know this," Bozell said.
"The fact that Trump created 11.1 million jobs in two months - 39.4% of Biden voters didn't know this. 
The Middle East peace deals for which Donald Trump has been nominated for no less than three Nobel Peace Prizes - 43.5% of Biden voters didn't know this. 
That America's energy independent – 50.5% of Biden voters didn't know this. 
Operation Warp Speed and 10 billion dollars spent looking for a vaccine - 36.1% of Biden voters didn't know this."
Bozell claims the study proves that Trump would have won had Biden voters been informed of the issues by a fair media. The study shows a significant percentage of Biden voters claim they would not have cast their vote in support of the Democratic candidate had they known the facts.
"If Biden voters had known about these issues, Donald Trump would have carried Arizona, Georgia, Nevada, North Carolina and Pennsylvania," Bozell said.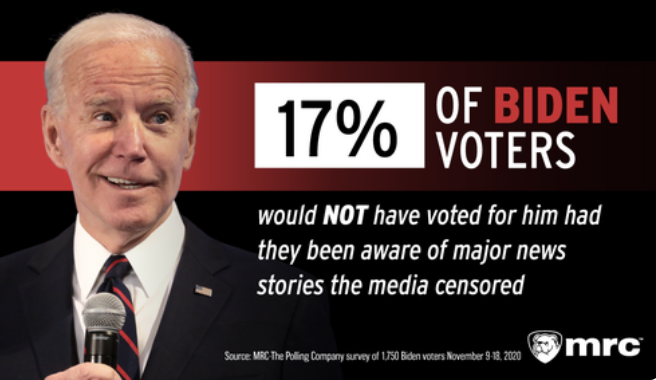 The study proves it was the media's censorship of Biden's scandals had the strongest impact on this year's election. According to the survey, more than one-third of Biden voters (35.4%) were unaware of the serious allegations brought against the Democratic nominee by Tara Reade, a former staffer who said Biden sexually assaulted her in the 1990s.
If they had known about Tara Reade's sexual assault allegations, 8.9% told us they would have changed their vote — either switching to Trump or a 3rd party candidate, not voting for any presidential candidate, or not voting at all. By itself, this would have flipped all six of the swing states won by Biden (Arizona, Georgia, Michigan, Nevada, Pennsylvania and Wisconsin), giving the President a win with 311 electoral college votes.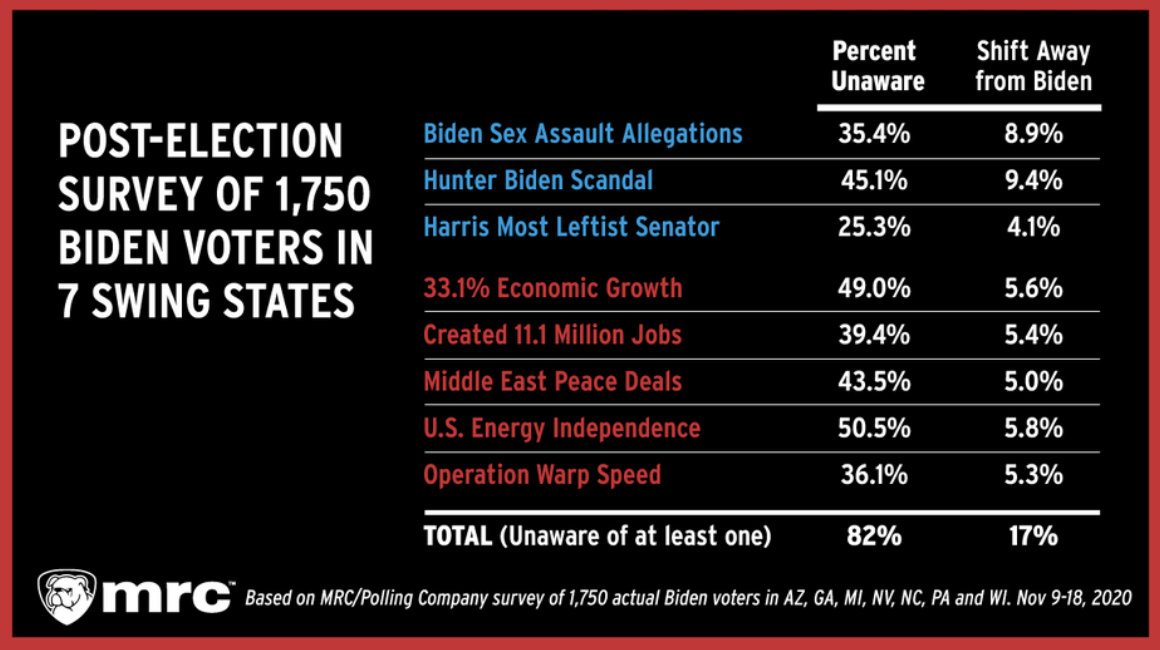 Even more Biden voters (45.1%) said they were unaware of the financial scandal enveloping Biden and his son, Hunter (a story infamously censored by Twitter and Facebook, as well as ignored by the liberal media). According to our poll, full awareness of the Hunter Biden scandal would have led 9.4% of Biden voters to abandon the Democratic candidate, flipping all six of the swing states he won to Trump, giving the President 311 electoral votes.
The ticket's left-wing ideology was another issue barely mentioned by the national press. A GovTrack analysis found Biden's running mate, California Senator Kamala Harris, had the most left-wing record of any Senator in 2019 (even more than self-described socialist Bernie Sanders). Our poll found that 25.3% of Biden voters said they didn't know about Senator Harris's left-wing ideology. If voters had the complete story, it would have led 4.1% of Biden voters to change their vote, flipping Arizona, Georgia, Nevada, Pennsylvania and Wisconsin to Trump. The result would have been a Trump victory, with 295 electoral college votes.
For more on the MRC/Polling company survey click here.