Miley Cyrus in a now viral video set off a social media firestorm when she told women not to "give up" on relationships with men – "you don't have to be gay."  
"I was being hardcore feminist vibes – not allowing anyone in," said the 26-year-old pop star in the video.
Then she went,
Don't give up, you don't have to be gay. There are good d***s out there, you just have to find them.
"I always thought I had to be gay because all guys are evil but that's not true," Cyrus explained. "There are good people out there that just happen to have d***s."
The self-identifying "pansexual" added that she's "only ever met one," a likely dig at her ex, Liam Hemsworth.
Cyrus, who is currently dating Australian musician Cody Simpson and had a brief relationship with singer and MTV's "The Hill" star Kaitlynn Carter following her public split with Hemsworth, received a whirlwind of backlash online as one would predict.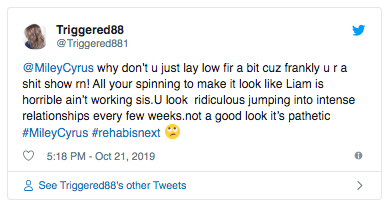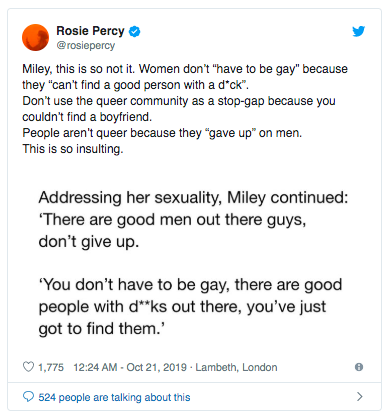 She responded to the backlash on Monday, saying that she "was talking s*** about sucky guys." Probably giving in to some of the criticism, she added, "but let me be clear, YOU don't CHOOSE your sexuality. You are born as you are. It has always been my priority to protect the LGBTQ community I am a part of."
MRCTV Reader,
The liberal media are terrified of the truth, especially when it leads to uncomfortable questions about their own leftist worldview.
MRCTV is the multimedia division of MRC featuring original content and aggregated videos of the news, people, and events conservatives care about.
MRCTV relies on the support of our loyal readers (and video viewers) to keep providing the news and commentary that matter to the American people, not just stories that prop up the liberal agenda.
Make a donation today. Just $15 a month would make a tremendous impact and enable us to keeping shining the light where the liberal media are afraid to tread.
— The MRCTV Team
DONATE
Connect
Sign up for our MRCTV newsletter to receive the latest news.
Sponsored Links